With Sunday Streets, for one day, SF streets are yours, one neighborhood at a time!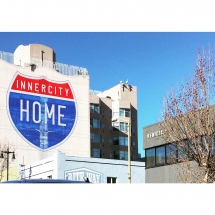 Nearly once a month, you can enjoy emblematic San Francisco streets with no cars and pollution! Sunday Streets season 2019 is on. Have fun!
Sunday Streets events create a large, temporary, public space by closing off stretches of a neighborhood's streets to automobile traffic, and opening them to pedestrians, bicyclists, and activities for several hours. The purpose? Encourage health, community and fun!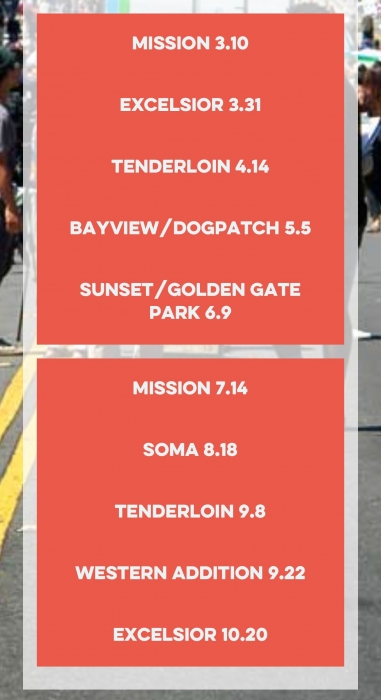 Here is our selection of things to do, stores to visit, food to eat... for each neighborhood. We will add more addresses and events along the way. Stay tuned!
MISSION
Very simple map... All you way, straight forward on Valencia, from McCoppin Street until 26th Street.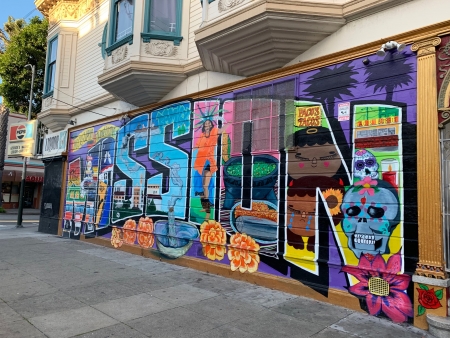 Make a vintage stop at STUFF
Discover how the neighborhood has changed around Four Barrel Coffee like with the brand new store Le Point (very chic, very NY inspired boutique by the stylist Pauline Montupet), the Samovar Tea bar (you cannot miss it, just follow the spice-cinnamon flavor) or Accident & Artifact and its precious selection of design stuff and accessories.
Visit Aldea Home + Baby, for your kids, for yourelf, for your home! Grab an ice-cream at Bi-Rite on 18th Street, or make a Mission cheese pause.
Walk a bit further on 16th Street and visit Creativity Explored, one of our favorite art spot in the city.
You will for sure make a stop at Dandelion, grab a tiny delight at Craftsman & Wolves and escape in Paxton Gate fantasy world.
Mission is a treasure chest. Just open your eyes and enjoy this beautiful, colorful neighborhood of San Francisco.
BAYVIEW - DOGPATCH
Take a walk until Pier 92 to discover the finished project Bayview Rise. Prepare your shopping list for your dinner: La Fromagerie and Oliver's butchery should help you have a great and gourmet one. Once there, grab an ice cream at Mr and Mrs Miscellaneous before heading to all the activities, music live, goats, bikes, free admission to the neighborhood gem Museum of Craft and Design... , celebrate the Summer of Love 50th anniversary. (The exhibition Summer of Love Experience @ the de Young Museum just opened.)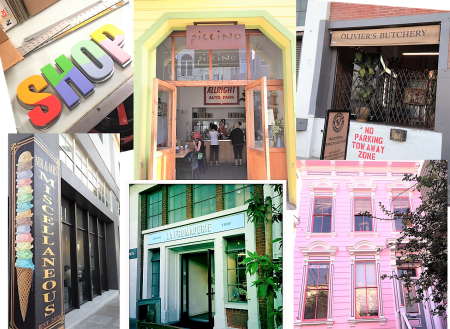 SUNSET / GOLDEN GATE PARK / GREAT HIGHWAY
Golden Gate Park and Great Highway. Roller, bike, skate... Conservatory of flowers, Japanese Tea Garden, Strawberry Hill, Ocean Beach... We love every little bit of it! Rather Sunset Countryside than Sunset City. Most probably the most athletic Sunday Streets.
TENDERLOIN
Look out for some Music with the Stern Grove Festival and some Art with SF Moma on-the-go.
San Francisco Public Library (Civic Center) is participating as well.
WESTERN ADDITION
From Geary Bld to the Panhandle.
Discover Jazzy Fillmore, make a stop at Bi-Rite on Divisadero Corridor, and ask someone to take your picture in front of the most famous SF old ladies @ Alamo Square.
EXCELSIOR
A chance to explore the South part of Mission street and Ocean Av. The whole neighborhood is changing so much and so quickly that you should get a bunch of surprises.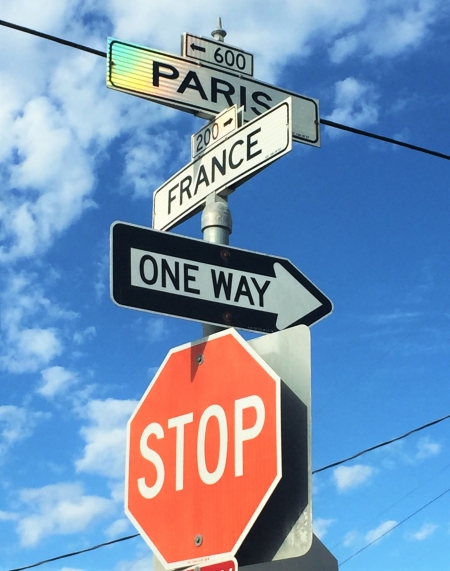 SoMa
No Embarcadero this year, but... a sunday in SoMa.
Explore this neighborhood that deserves it so much. You will even learn new names, the ones of tiny micro-neighborhoods, part of the big SoMa, like South Park (that has changed so much in the last few years and yet remained a tiny green heaven in the city), South Beach, Rincon Hill, FiDi South...
Our friends at Once Upon a Town had made a short portrait of SoMa for LostinSF a few months ago. Be inspired and have a great Sunday under the SoMa's sun.
>> Sunday Streets program in SoMa on August 18, 2019
Sunday Streets
Free, 11am-4pm