Wisdom of the sign at Turk and Larkin in the Tenderloin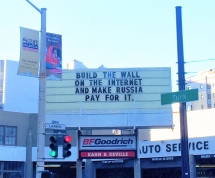 It has been more than 50 years now that the sign, located at Turk and Larkin, in the Tenderloin, is displaying its wise quotes and sentences about our time, our society, our politicians, about us.
This billboard, located at Turk and Larkin, right in front of the Kahn and Keville Tires Wheels and Auto repair shop, is one of these tiny details that make this city different and kind of odd, the good way.
We owe these messages to Bill Brinnon who has been in charge for years and years of finding new quotes and displaying them on the sign. Apparently, we can go and suggest some ideas at the shop itself. But in the end... Bill has the last word:-)
Herb Caen - famous journalist at the San Francisco Chronicle i the past - had called this sign the ''world's biggest fortune cookie'' To me, it rather looks like some wise guy with a kindly judgement. It even reminds us of Nasreddine, a legendary character popular in stories told throughout the Middle East. Recently, some of his adventures became very famous in French youth litterature, and some of them have been translated in English.
I have been browsing through different past messages and here are some of them that I really liked.
THOSE WHO CAN MAKE YOU
BELIEVE ABSURDITIES
CAN MAKE YOU COMMIT ATROCITIES
- VOLTAIRE
Ok, it's quoting Voltaire. So that may have inflenced my first choice. It was displayed last Fall when elections were approaching. It is still so relevant...
WE WOULD LIKE TO WELCOME
TWITTER
IN THE NEIGHBORHOOD
BUT WE HAVE
WAY TOO MANY CHARACTERS.
That was in 2014... Since then, things have slightly changed though (I am talking about the number of characters...)
TO BE ATTRACTED BY POWER
IS TRAGICALLY HUMAN.
DWELLING IN LITTLENESS
IS EXQUISITELY DIVINE.
- POPE FRANCIS
Worth listening even for non-believers...
THOSE WHO SWIM AGAINST
THE CURRENT MAY NEVER REALIZE
THEY ARE BETTER SWIMMERS
THAN THEY IMAGINE.
- SHANKAR VEDANTAM
Local journalist, correspondent for NPR.
I GOOGLE
THEREFORE
I AM NOT.
- JILL LEPORE
I am not able to discuss that. But what I know is that... I googled the sentence and its author and ended reading a very interesting article...
> www.newyorker.com/magazine/2016/03/21/the-internet-of-us-and-the-end-of-facts
I googled, and I learned something! Let's be positive:-)
We wish you so many other cool, fun, meaningful, wise and slightly crazy readings. And we'll try to keep you updated through LostinSF on Instagram.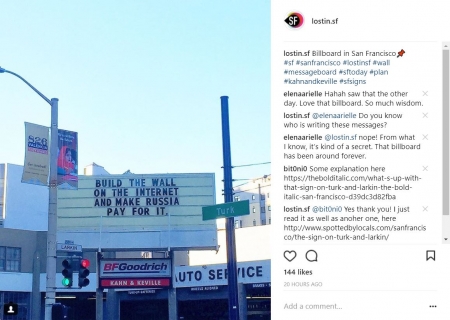 Short story by Nathalie for LostinSF with resources such as... Instagram, The Bold Italic and Spotted by locals.