Recycle fashion and renew your style: check the best thrift shops addresses in San Francisco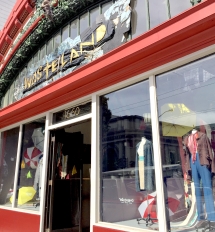 Second-hand stores are about to become the new way to shop - and actually to dress up - for fashionistas. Besides the environmental impact-purpose, recycling fashion is a way to renew your style. Thrift is the new chic!
Eco-fashion... the term may sound rather serious. Actually, it happens to be so creative and exciting. We are total fans, so addicted already.
Beyond the economic impact - on your own personal finances and on the global fashion industry - beyond the environmental impact too, fashion, in its vintage, second hand, thrift, recycled, re-loved version, is so appealing.
Actually, everybody is involved. Let's just think of H&M and its ''conscious'' claim or TopShop and its Reclaim collection. Ok, these brands are also emblematic of the disposable fashion and its terrible side-effects. But still, let's see the positive side of the story and the fact that there are some signs of a growing eco-fashion trend.
Simply add some considerations, such as...
Throwing away or discarding is not trendy any longer! (except if you make it a donation. Then you contribute to the whole recycling circle!)
Life is so expensive!
Everybody looks alike and wear the same stuff!
Then you will get the whole picture and understand to which extent this new way of buying is also a way to stand out and be different. To make it even easier, from charity stores to fashion vintage boutiques, they all do their best to make sure that buying used feels like buying new.
Our own experience... we dove into this adventure some months ago ang got definitely addicted. It is like finding some rare gems. Buying becomes even rewarding. Afterwards, it's almost boring to get back to traditional stores.
To help you and maybe inspire you, here is our selection of best second hand stores by San Francisco neighborhood with different nuances according to shopping and clothing styles. From thrift to vintage chic stores.