Crabs, oysters & seafood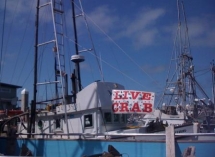 If you are craving for crabs, oysters and other seafood, you will find what you need in San Francisco, especially when days are becoming colder and the Holiday season is peaking.
San Franciscans all know that November marks the beginning of crab season. The most popular is the Dungeness Crab, but there are a lot of other species.
You can try to catch them yourself. We did it successfully a few years ago using a net and a chicken carcass bought for a few dollars on Clement street. It took us some patience and ruse to thwart the sea lions' tricks, but we caught 3 crabs (see below).
There are rules concerning the amount you may catch per day, and the size under which you have to release the crab in the ocean... etc
> Current California Ocean Recreational Fishing Regulations
> San Francisco Chronicle Article about catching crabs in California.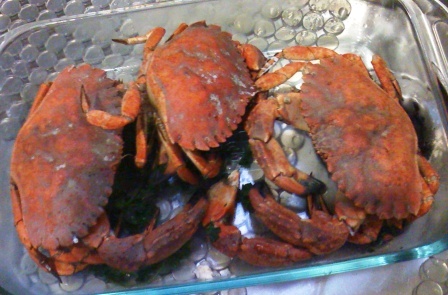 Obviously, it is much simpler to buy the crabs directly from the fishermen ...
If you are a fan of oysters, you will find very good ones in San Francisco's restaurant. Some of them might have are been harvested near SF in Point Reyes or Tomales Bay. But there is a good chance that the oysters you'll eat will come from another place.
Here are our favorite addresses in the Bay Area.
If you want to stay in San Francisco :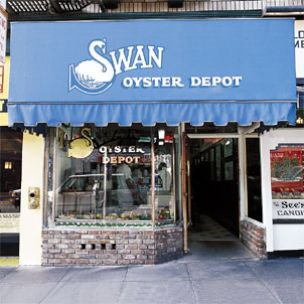 Swan Oyster Depot
Oysters, crabs, shelfish... you can eat right there or take away. This tiny restaurant has the reputation to be the best place to eat fresh and delicious oysters in SF. Be aware, the place is small, so you might wait in line.
1517 Polk street, Nob Hill.
If you want to buy live crabs directly off the boat :
Go to Half Moon Bay
Fishermen sell their catch of the day in Half Moon Bay harbor, directly off the boat. Crabs, salmons, halibuts, rockfish... depending on the season. This is as fresh as it can be !
Call in advance to order (especially for crabs).
"Fishing vessel Seabird", Pillard Point Harbor, Dock E6. Captain Dan (650) 703 2858
"The Cricket" (crabes), Captain Bill Webb (925) 813 1593 (photo)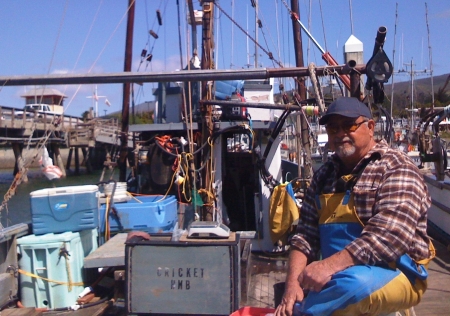 If you want to venture towards the North of San Francisco :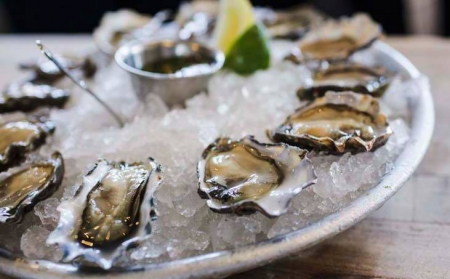 Try Hog Island Oyster's farm
Ferry Building regular visitors know very well the restaurant Hog Island Oyster. The oysters come directly from their oyster farm located in Tomales Bay (approximately 1 hour North of SF). Besides being a nice restaurant and oyster bar in the Ferry Building, Hog Island Oyster co sell oysters to go. But quantity they sell/day is limited so call in advance to order.
On week-ends, we highly recommend to go to the farm in Tomales Bay, buy oysters, eat them right there (on one of the picnic tables) or bring them to Bodega Bay or Point Reyes and eat them bare foot on the sandy beaches.
1 Ferry Building, #11, Embarcadero.
If you are looking for a seafood store :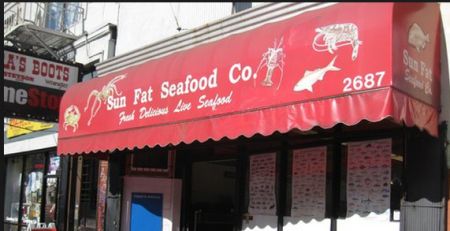 Sun Fat Seafood Company
Located in the Mission district, this store sell fish, oysters, crabs... It's fresh and clean.
2687 Mission Street, Mission.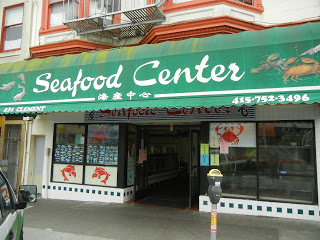 Seafood Center
Top reputation in the seafood neighborhood by essence.
831 Clement Street (between 9th and 10th avenue)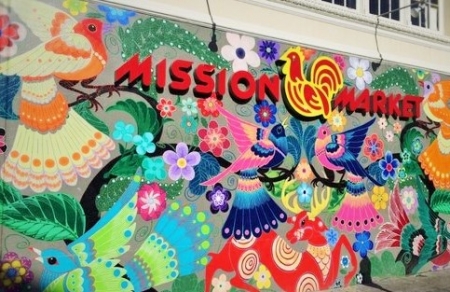 Mission Market Fish and Poultry
2590 Mission Street (between 21st and 22nd Street)