BURNING MAN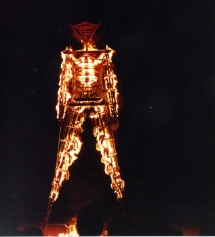 Almost 30 years of history
From Baker Beach to Black Rock Desert
Renowned on a worlwide scale, Burning Man gathers every year, for a week, a community of about 50,000!! people, to celebrate art, creativity, self-expression and self-reliance.
Burning Man will take place from August 30 to September 7, 2015.
Pre-sale tickets start announced for $800!
Even though, thay have always been way more expensive than the other options to finance some low-income programs for instance, it is still so outrageously expensive. Let's say, we feel like the event is experiencing a serious gentrification. It sounds and looks pretty deconnected from the reality... but actually, it's kind of the definition of the event!
Just take a look at the different price options for Burning Man 2015. It does not change the fact that the event is totally unique.

And here is some history in words and pictures.
Everybody has something to say about Burning Man that stirs up passions,, one way or another. And since Facebook and Instagram became so common and popular, the ''Burningmania'' asserted itself through a massive spread and circulation of photos and videos to give a glimpse to those who could not still attend the Festival of the incredible success of the event and of how creativity boudaries could be pushed back in such a ''far-far-far away land'' by its participants.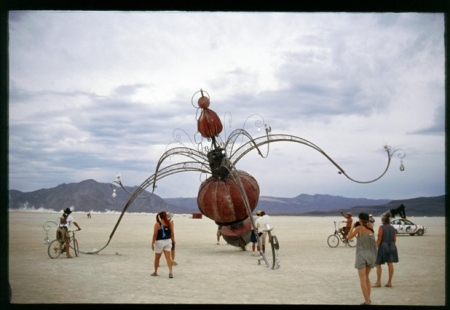 We felt like some history could help understand how Burning Man, born in the SF underground movement of the 80s, could become the largest counter-cultural event in North America, remain so unique, remain so appealing throughout 30 years of existence trying to be loyal to its original ideals and utopias.
The documentary Dust and Illusions, by Olivier Boning, explores this epic saga. The purpose was not to recreate Burning Man on the screen, but definitely to follow its necessary evolution, and to try to understand how values and ideals conveyed by its initiators could carry on despite the pressure of the larger society.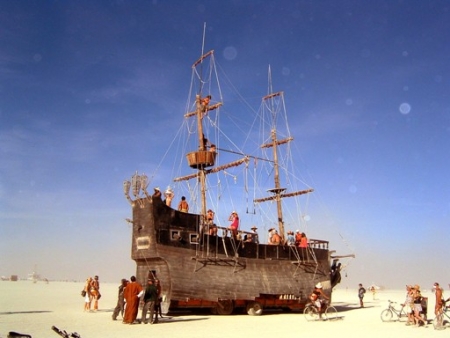 We had had the opportunity to watch Dust and Illusions at the Roxie Theatre and listen to Olivier (French living in SF for more than 20 telling us about his own experience regarding this outstanding artistic adventure, and basically one of its kind human one.
Take a lok at the trailer of the documentary Dust and Illusions.
BURNING MAN
Naturally, to know more about the event, to learn about the 10 Principles, to get some tips to recover from the Post-Playa blues, to know how to participate... eveything is on their website www.burningman.com
Photos credits:
Burning Man's Top picture: Michael Mikel 1993.
Giant Chandelier by Rosanna Scimecca and her crew: Madnomad Films 2003.
La Contessa (spanish gallion): Aki Tanaka 2004.