Top 5 "Best Bike Rides"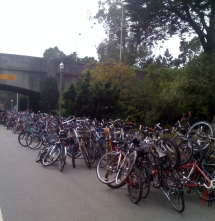 Whether the weather is nice or not this week-end, take your bikes for a ride with family, friends, or alone.
Here are our "Top 5 Best Bike rides" :
Ocean Beach
Along the Ocean, from Beach Chalet to SF Zoo. It's all flat and fast. The roundtrip takes about an hour. You can easily park for free at the parking lot by the seaside, across from the Beach Chalet. Bring your bikes (no rentals)!
Practical information: Ocean Beach, San Francisco.
Duration: 1 hour – Easy.
Half Moon Bay
Along the great beach of Half Moon Bay. The views are sublime. Start at the beginning of the bay, at Sam's Chowder Hose (take the opportunity to book a table with a view), and go where the road leads you, heading toward the south. Go as far as you want to, or as you can.
Practical information:
Half Moon Bay, 30 minutes south of SF via highway 1.
Duration: 1 to 2 hours – Easy. Free parking.
No bike rentals on site, bring your own.
Tennessee Valley Road
North of the Bay. It's a small road on the left after Sausalito. Free parking. Great hill going down toward the sea that needs to be climbed up again later. Obviously! But when you will arrive to the ocean, it's just wonderful. Bring a ball, some beach towels and cookies for a little picnic…. And don't forget your bikes!
Practical information:
Tennessee Valley, 20 minutes north of SF.
Golden Gate National Recreation Area
Mill Valley, CA 94942
Duration: 1-1.30 hours round trip – easy. Free parking.
Sausalito
Often mentioned in guidebooks, so a bit touristy, but it is still great.
Depart from Pier 39 where you can rent a bike (The Bike Hut Rent a bike ), and head towards Sausalito. Ride along the bay through the Marina and Crissy Field, then cross the Golden Gate Bridge. Mythical moment! Short stop at Vista Point to take pictures of the bridge and San Francisco sky line. Descent to Sausalito and return by ferry to San Francisco (bicycles are accepted on the ferry). This ride takes the whole day (1 to 2 hours of cycling, depending on your pace), and can be done with children (some parts are a bit stiff, but most of it is doable!). The boat ride back to Pier 39 is a pure moment of happiness. Do not forget your camera and a sweater.
Practical information:
Starting at Pier 39, on Embarcadero (parking is not free), or at Crissy Field if you already have your bike (parking is free).
Duration: 2 hours of cycling, but count the whole day with lunch and the ferry ride back – Fairly Easy.
Angel Island
A small island right in the middle of the Bay, between Tiburon and SF. The views are amazing! You can take your own bicycles or rent them ($ 10 per hour, or $ 35 per day). 8 miles of bike paths, free of cars, for beginners as well as intermediates. Bring your picnic, beach towels, balls, cameras ... and admire the views! If you prefer to walk, there are many hiking trails as well.
Practical information:
Angel Island State Park, 1 mile south of the Tiburon Peninsula in the heart of the Bay. The island is accessible by ferry from Tiburon and SF.
Duration: Just over 1 hour for the whole tour starting at Perimeter Road.
More info on their website angelisland.org .