The Bilingual French Summer Camps by the Lycée Français de San Francisco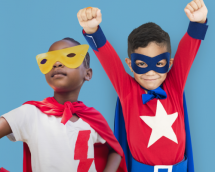 [Partner article] Summer is getting closer and it is that time of the year again to figure out how to get our kids busy during their summer break. The Lycée Français de San Francisco (LFSF) has prepared a great program between their 2 campuses in San Francisco and in sunny Sausalito.
The LFSF team is ready for Summer 2018. Long story short... here is what you should want to know about the Bilingual French summer camps by the Lycée Français...

To register your child, click here
THERE ARE AT LEAST 3 GOOD REASONS
TO ENROLL YOUR CHILD
IN A BILINGUAL SUMMER CAMP

Votre enfant est Français ou francophone mais est scolarisé dans le système américain, Ça peut lui faire du bien de ne pas perdre la main (ou la langue en fait) pendant l'été. We left the paragraph in French on purpose. That makes sense, doesn't it?

Your child attends a bIlingual French/English school, and French is not his/her native language. Nothing better than some summer practice to stay in shape... in French shape!

You've got family visiting from France for a few weeks. It is a great idea to have the cousins or friends from abroad spend time together in an environment that suits them all.
That being said, the bilingual French summer camps organized by the Lycée Français de San Francisco seem to fit all of these scenarios.
SUMMER CAMPS
@ THE LYCEE FRANÇAIS DE SAN FRANCISCO
ALL SUMMER LONG
The bilingual French summer camps by the Lycée Français de San Francisco start as early as June 25 and will last the whole summer.
LFSF camp concludes 18th August in Sausalito and the soccer camp ends on the 24th in San Francisco.
FOR 3 TO 12 YEAR OLD KIDS
The Camps are broken down into very specific age brackets to optimize activities and make them attractive for all attendees. For example 3/4 years - 5/7 years - 8/12 years.
Please note that 3/4-year-olds can only attend the camp if they are a current LFSF student or have confirmation that they will be attending the school in 2018|19. For more information contact [email protected] directly.
OPEN TO GENERAL PUBLIC
All camps are open to the general public. No need to be a member of the Lycee family to register!
A WIDE VARIETY OF ACTIVITIES
Sports, outdoor activities, arts and culture are the main ingredients of this special summer recipe.
COMPETITIVE PRICES
Prices vary from $390 to $410 a week.
FLEXIBLE SCHEDULE
Regular hours are 9am to 4pm. We understand that, living in the Bay Area, time is important. So, to make life easier for busy parents, the camps run and offer extended morning and afternoon daycare hours (8am-8:45am and 4:15pm to 5:30pm). A shuttle service connection is also available between San Francisco (755Ashbury Street) and Sausalito.
A BILINGUAL FRENCH SUMMER
Language is important and we mix it with a traditional American based camp with an educational twist where students have fun in a quality and safe environment!
> JUNE 5, 2018
The LFSF Summer Camps team invites all families that have registered for the camps to join them at the Sports Basement store on Bryant for an information orientation meeting on June 5 from 6 to 7pm.
Take advantage of a 20% OFF discount on all your purchases that evening.
LYCEE FRANCAIS DE SAN FRANCISCO
SUMMER CAMPS 2018
June 25 - August 24, 2018
To browse through all the programs and book camps, click here.