The best French restaurants in San Francisco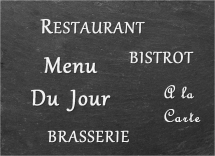 It is said that if one day all San Franciscans decided to go out to dinner at the same time, some 800,000 people would be able to find a seat in all the restaurants and cafes of the city. Okay, well, it seems a bit exaggerated, but the anecdote illustrates quite well the abundance of restaurants that can be found here.
San Francisco, cosmopolitan city, is a geographic crossroads between the East and the West. All kinds of nationalities are represented. The legendary open mind of the inhabitants is such that each culture has its place and is, among other things, represented by its cuisine. From Ethiopian to Hawaiian through Korean and Cajun the choice is wide. Since the beginning of the French presence in San Francisco, at the time of the gold rush, the French held the best restaurants and cafés in town. The most prestigious restaurants, not to mention the most expensive, are still French, although it must be said that French cuisine has lost its monopoly over the years of great chefs and best tables. That said there is always a "je ne sais quoi" in French California cuisine or "fusion", which blends East and West.
The list of French restaurants in San Francisco is long. Downtown is the area where you'll find most of them. Where the gold miners had established French Town, 150 years ago. We would dream, like the Chinese, Italians, Mexicans or Japanese, to have our very own neighborhood. This is not quite the case, but there is a small Parisian air around Grant, Bush and Montgomery streets.

Café de la Presse, which sells all the French press, or almost. The bistro menu is very ideal for a lunch in town.

Next door, the Central, the oldest French restaurant in SF, and its famous cassoulet.

A little higher on Bush, Bouche, modern French cuisine in a tiny restaurant on two floors, that we highly recommend. Especially for its sardines and salmon!

Café Claude, a very good restaurant, bistro style, with jazz bands on weekends.

Her sister restaurant, Claudine, at the corner of the alley is a good wine bar, friendly and pleasant.

After a nice facelift and new menu, Café Bastille remains essential for its sunny terrace busy lunches, evening party (day of music, Bastille day ...) and major events (sports, electoral ...).

Plouf, the only restaurant in town that offers such a wide and excellent selection of moules frites. A modern setting and a terrace which can be crowded.
And not far away, Fleur de Lys, one of the most famous restaurants in the city, one of the most expensive too. Modern French cuisine with many influences, acclaimed by food critics and granted of a Michelin star in 2011. Ideal for a special occasion. (And if you want to taste the chef Hubert Keller cuisine without breaking the bank, go to the Burger Bar in Macy's. Well, it's not quite the same experience but the burgers are very good, as well as the milk shakes.)
Since the parution of this article,
Fleur de Lys has closed its restaurant.

Muka used to be hidden behind the French Alliance. The basement was a great place for a frugal dinner or dessert, paired with a glass of wine. Same atmosphere, different location now in Hayes Valley.

In the heart of North Beach, wedged between two pizzerias, Café Jacqueline is famous for its delicious sweet and savory soufflés.

And not far away, Piperade THE Basque restaurant of San Francisco. An excellent menu and a warm atmosphere. There are all the flavors and colors of the Basque Country, from the Espelette spice, to the napkin, and the chef owner Hirigoyen's accent.

Ducroix restaurant is a tiny restaurant in the heart of the Financial District. There are chances that you may have pass it many times without even noticing as it is discreet. Therefore nothing pretentious, but a good traditional French cuisine.
Since the parution of this article,
Ducroix has closed its restaurant.

Across Market, the charming Le Charm and its traditional French cuisine. An excellent charcuterie selection.
Since the parution of this article,
Le Charm has closed its restaurant and
reopened as Mathilde French Bistro by Mathilde Gravel
who had worked for years at Le Charm.
One of the first restaurants to have openned in SOMA, when there was almost nothing there, Fringale, excellent, classic and always good. Hmmm, the lamb chops! And duck confit! And creme brulee! ...

Two essential bistros on Potrero Hill. Warm atmosphere and influenced French cuisine. Try the various menu for lunch Chez Maman and the Provencal cuisine Chez Papa for dinner. Or otherwise.

On Folsom, Terroir, is a hybrid bar and organic wine shop. Ideal for an aperitif with a plate of charcuterie in the early evening.
In the Mission, Garcon, a Parisian bistro in the heart of a neighborhood that became trendy. Very frenchy: decor, service, menu. We love it because we feel just like at home.

A generous kitchen and a cozy atmosphere in the heart of Castro. Bisou may seem exuberant as the image of its owner, Nick, who loves to give ... bisous. Bottomless Mimosa and Bloody Mary for brunch! Hip!

Blush, a wine bar open late at night, offering a wide selection of wines by the glass or bottles, and small plates of Italiano Franco Spanish mix. Comfortable sofas, from which it gets difficult to get up in the late evening ... Live music on Tuesdays and Thursday evenings. And every last Monday of the month the San Francisco Impro Troupe.

After dinning at L'Ardoise, standing out in the street, you might forget that you were still in San Francisco. The cozy atmosphere at this fine bistro will transport you in France. Go ahead, try it!

In Noe Valley, Zinc. Parisian bistro atmosphere in this friendly neighborhood restaurant. A very nice patio.
Since the parution of this article,
Zinc has closed its restaurant.
But Laurent (chef of Le P'tit Laurent in Glen Park) opened
Chez Marius at the same location.

Zazie is very popular for its breakfasts and hearty brunches. French menu and American portions! It's good to take your time on the patio when the sun shines in Cole Valley.

In Hayes Valley, Absinthe, a brasserie with a beginning of the century style. The 20th! The quiet and charming restaurant and the busy and noisy bar are well separated, choose your side according to your mood.

Accross the street, Chez Maman came down from Potrero Hill to open Chez Maman West. A very eclectic menu with crepes, mussels, burgers and, surprise, Mexican dishes! There really is something for everyone.

On Russian Hill, Cocotte, a brand new French restaurants in the city. This is Hyde Street Bistro, which has turned into a very good neighborhood restaurant. At Cocotte, chicken, of course, but good French specialties and a very nice chef!
La Folie, a very fine dining restaurant, that was ranked by Michelin Guide among the best restaurants in the United States. A dining experience for special occasions. French president François Hollande had lunch here with la creme de la creme of the Silicon Valley bosses when he visited San Francisco!

And for smaller occasions, La Folie Lounge for a cocktail and lighter bites. It is right next door.

Amelie, a design decor, a youthful and trendy crowd, in this modern wine bar. Plates of cheese and charcuterie to nibble at the beginning or end of the evening with a good glass of wine.
In Cow Hollow, Le Café des Amis, just like a brasserie in Paris. One of the best Tartar there is. The floor manager is attentive and charming.
Since the parution of this article,
Le Café des Amis has closed its restaurant.
A little further on Union Street, Gamine, very few tables and a small private room, kept almost secret. A good menu, simple and unpretentious.
At the edge of the Presidio, Baker Street Bistro, a classic French cuisine, with a famous brunch on weekends. Two steps from the famous Lyon Street stairs. Come on, hop, hop, hop, let's go up this stairs! Also, don't tell anyone, but you can legally savor foie gras just across the street at Presidio Social Club, since it is on federal land, and California laws don't apply. (It's not advertised on the menu so ask your server...)
North of Lombard in the Marina, Bistro Aix, with a nice simple menu, when Californians are influenced by French and Italian cuisine. Not to mention the heated patio, always a good idea!

On Pacific Heights, Chouquet's , ideal for a light lunch on the sunny (?) terrace, the salads are delicious. That said, it is also very good for dinner or Sunday brunch.

Chapeau! A very good restaurant, that is quite unexpected in the Inner Richmond. Warm, quiet and cozy. For the fans: the sweetbreads are particularly exquisite.

Chouchou, in Portola is a great neighborhood restaurant. A traditional and simple cuisine. The homemade pies are always delicious.
> Addresses and links to make a reservation
Thank you so much to Cécile who shared all these French addresses with us.