OUTERLANDS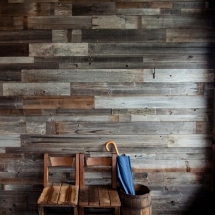 New American Restaurant
4001 Judah Street
Among our favorite restaurants, Outerlands recently turned 4! and goes on with offering an amazing experience in the midst of the Sunset district.
Outerlands... is definitely the address you want to know and to recommend.
We had told you how we fell in love with Outerlands that kind of looks like a shelter where fresh baked bread smell surrounds you.
We simply wanted to give you some news...
Brett Cooper has been named Rising Star Chef 2013 last May with glorious other chefs as Jason Fox from Commonwealth or Nick Balla from Bar Tartine, just to name a few. Congratulations!
The terrasse is gorgeous and provides the same cosy, quiet feeling as the interior design of the restaurant. It will make bright and sunny days in the Sunset even more appealing.

At last... and it's some really good news... you can now make a reservation! Enjoy and don't be too concerned... for those who still prefer take a last minute chance, Outerlands still holds some seats for "walk-ins". Note also that reservation is available only for dinner time. For the lunch and brunch, it is still on a first come, first served basis.
Congratulations to Outerlands for its great success and achievements as well as for all its future projects.
Outerlands
4001 Judah Street
Lunch
Tuesday-Friday, 11am-3pm; Saturday 10am-3pm
Dinner
Tuesday-Saturday 5:30pm-10pm
Sunday Brunch
10am-3pm
Closed Sunday nights and all day Monday.