SAN FRANCISCO EN 9 CHANSONS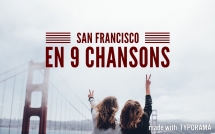 San Francisco n'a jamais cessé d'inspirer dans tous les domaines possibles et imaginables. Voici notre sélection franco-américaine spéciale SF, paroles et musique.
1. Maxime Le Forestier et sa maison bleue.
Parce qu'elle est incontournable et qu'on se demande toujours où elle se trouve. Pour info, voici l'adresse: 3841 18th street. Allez faire un tour entre Castro et Dolores Park. Nous, on avait eu tendance à l'imaginer en haut d'une colline. Mais en fait, elle est juste adossée. Les paroles étaient claires pourtant.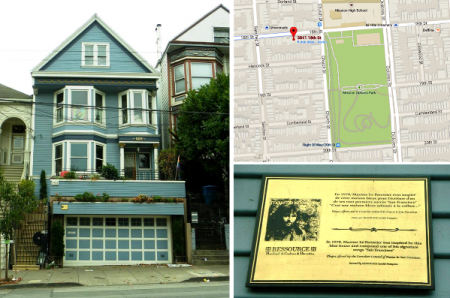 2. I left my heart in San Francisco par Tony Bennett.
Parce ce que c'est ce qui vous guette.
3. Save me, San Francisco par TRAIN
Pour faire couleur locale. Le groupe de San Francisco y revient sans arrêt et reçoit toujours un excellent accueil.
4. San Francisco Days par Chris Isaak
Pour continuer dans la veine couleur locale, avec le crooner de SF qui est régulièrement présent notamment pour le Bluegrass Festival.
5. So far away from LA par Nicolas Peyrac
Pour la nostalgie, pour le look et parce que c'est vrai que c'est un peu far away... pas que de LA. En plus, toute la première strophe est dédiée à SF.
6. Santiano par Hugues Aufray
Pour le clin d'oeil #goldrush.
7. San Francisco par les Village People
Pour le disco!
8. Fake tales of San Francisco par les Arctic Monkeys
Pour une inspiration plus récente et vous encourager à lire les vrais Tales of the City.
9. If you're going to San Francisco... be sure to wear flowers in your hair.
Pour finir sans doute avec la plus connue et la plus symbolique.