Nice Patios in San Francisco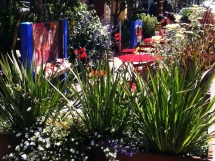 It is warm and sunny in SF ? Let's enjoy a nice and lush outdoor patio in the city for a quick lunch under a parasol, un friendly brunch with your sunglasses, or a casual business lunch.
Chouquet's
The heated outdoor patio at the corner of Fillmore and Washington is well known by the neighborhood people. Nice Frenchy atmosphere who makes us feel as if we were in Paris, Lyon, Marseille...
Skool

The outdoor space in this SoMa restaurant is fantastic not only for sunny lunches, but also for dinners. They bring you some soft blankets if it's too chilly at night!
Thourough Bread
A nice and peaceful back patio almost at the corner of Market and Church. Perfect to enjoy a sandwich and a delicious pastry. It's big and kids friendly.
Le Zinc
This French restaurant in Noe Valley has a wonderful, charming and quiet patio area at the back, shaded by a lemon tree.
Zazie
Awesome patio at the back with heated lamps for chilly days in Cole valley. You might experience some wait at brunch time on week-ends, but it's worth it.
Arlequin Café and Food-to-go
A large back patio, both sunny and shady, with a lot of vegetation and plants. Who would guess that there is such a peaceful spot on Hayes street ? They also have a few seatings outside in front of the cafe.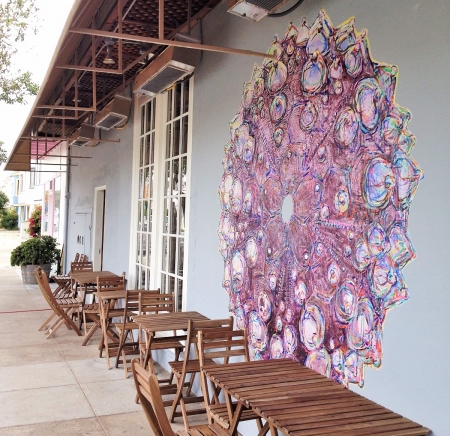 Switch for totally different neighborhood and head west to the Sunset. The charming terrace at Outerlands awaits you. Read ou article.
We also like a lot the garden at Zeitgeist on Valencia. The Bar-Barbecue in the Mission is a local landmark. Great hambugers to share with a bunch of friends.
Another style, another location, SOMA StrEat Food is a must go. Great for sports events (We had a blast for the last Soccer World Cup), for your own events (like birthday parties! Book the bus!) or for nothing special. A bunch of food trucks, with a regular turn over. Family friendly.
And we have not mentioned yet all the parklets that bloomed in the city. Here is an interactive map we found. Click here and find your spot(s).
Also, on Embarcadero, some restaurants have nice sunny "terrace" overlooking the Bay Bridge and the Bay : Waterbar -our article and La Mar - website. Perfect for business lunch or a Sunday brunch!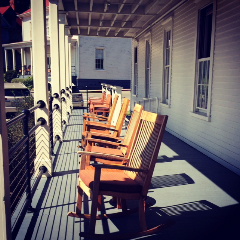 Leave the city, cross the Golden Gate Bridge and head to Murray Circle Restaurant : have your brunch o a bench with a view. Read our article.
And here are some addresses shared with us by friends.
The Ramp... to cross the Dogpatch and enjoy a different point of view of SF.
Great huge wharehouse with a small patio in the front. Big, wide, noisy (that's the only issue) et rather affordable.
Brenda's Meat and Three. Formerly Blue Jay Cafe on Divisadero, the restaurant offers a Southern inspired kitchen and opened a charming tiny patio in the back.
Sparrow Bar and Kitchen on Haight street. Large garden in the back. Definitely the plus in this restaurant.
Squatt&Gobbles on Haight street also has a small patio.
4505 Burgers & BBQ A terrace behind a wire fence along Divisadero. The waiting line is often long but you can simply order and go to Alamo Square to go on with your bbq picnic.
B Restaurant and Bar at Yerba Buena.
Chaya on Embarcadero. Exquisite restaurant.
Le Café Rêverie on Cole. With a, unexpected divine garden.
We also love the nice courtyard along the Stable Cafe in the Mission.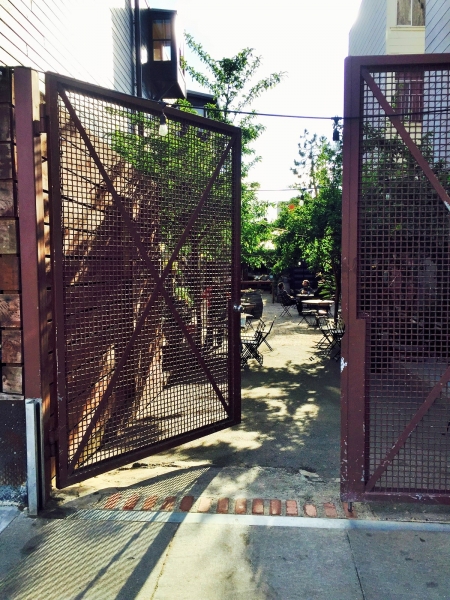 Enjoy the sun and warmth in SF!