LostinSF's Surf guide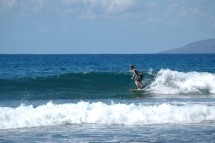 Surf in California is not a myth… Waves are everywhere, particularly in winter when the wind calms down (for spring and summer, there is kite surfing!). If you have never tried it before, this is the time to do so! If you're already a pro at it, then skip these lines, take your board and head towards the beach. The swell can't wait!
LostinSF's Surf guide to San Francisco and its surrounding areas:
San Francisco:
The great Ocean Beach offers plenty of possibilities, but watch out for currents and sharks. And just for the myth's sake: go surf under the Golden Gate Bridge. The spot is dangerous (there are many rocks on the bottom of the sea, and it's rather shallow) and attracts local pros, so if you don't have the level yet, just wait a bit longer.
South of San Francisco:
Pacifica – Linda Mar
The ideal spot to start surfing, except for the crowd. Taking the "1" southbound, it will take you about 15 minutes. Parking is free and not a problem. Oups, I almost forgot : watch out for sharks!
Half Moon Bay
Another 15 minutes further south of Pacifica, and you're in Half Moon Bay, at el Granada. It is a beautiful place, even for non-surfers. If there are no waves at the surf spot, called Princeton Jetty, you can always walk or bike along this large bay.
But let's talk surfing: There is a small spot on the right side of the bay. The closer you get to the rocks, the bigger the waves get. There is no webcam as of now, so you can never be sure when waves are coming unless you have a friend that lives there! So bring your bikes as well as your boards!
And if you stay for lunch, we recommend Sam's Chowder House (www.samschowderhouse.com). This beautiful restaurant has a south facing patio sheltering from the wind, and fantastic views over the bay. Their specialty, the Maine Lobster Roll, is to die for! Book a table before you go surfing.
Maverick
This spot is for pros only, right on the tip of Half Moon Bay. To give you an idea: the waves can reach 50 feet, the current is very dangerous, there are rocks everywhere, and the water is even colder than anywhere else… If you are not able to surf this wave, you can always go for a walk on the beach. It is beautiful, impressive, and, at low tide, children can catch crabs.
And once a year, when the conditions are perfect, between November and March, the best surfers in the world gather to compete at the Maverick Surf Contest. Bring your cameras! http://www.maverickssurf.com/index.php
Santa Cruz County
Even further south, about 1 hour and 15 minutes south of San Francisco via 280, you will find 50 miles of coastline for surfers of all levels and all ages. Pleasure Point, The Hook and Cowell Beach are perfect for beginners. And for pros and advanced surfers, Steamer Lane is a myth.
North of San Francisco:
Bolinas
We love it, not only for surfing. It is a beautiful place, where you can take walks on the beach, watch migrating birds, fish, collect shells, and meet hippies…
For beginners and intermediates, the wave of Bolinas is perfect.
The only downside is the presence of sharks! They wait for the sea lions at the output of the Bolinas lagoon…. And sometimes confuse the surfers with their daily feast! The few attacks (the last one dates back to 2002, but the surfer has recovered and continues to surf "the Bo") do not seem to discourage the surfers.
Stinson Beach
A huge golden sandy beach on the other side of Bolinas lagoon, lined with beautiful vacation and week-ends homes. When the weather is good, it almost feels like in Southern California. Surfing there is good, too, but… watch out for sharks! It is not uncommon to see surfers rush out of the water after having seen a fin. Reassured? Not us!
Practical information:
The book "Surfer Magazine's Guide to Northern and Central California Surf Spots" will provide full comprehensive information on all these spots, and many more farther north and south.
And finally, for the surf report, log on surfline.com