Kitesurf in SF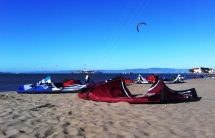 Until some years ago, San Francisco attracted mainly surfers and windsurfers. Now, you have tou count with the kitesurfers whose number just increased as quickly as ... the San Franciscan wind can blow.
There is a way to do kitesurfing all year long, yet, the best season is from March until October with the wind growing at the end of the afternoons.
Spots to know for the show :
Crissy Field naturally. Kites landed on the sand or their kind of waltz in the air... it is quite a show! Good to know... every other thursday (June 30 was one of them), kite surf race over there.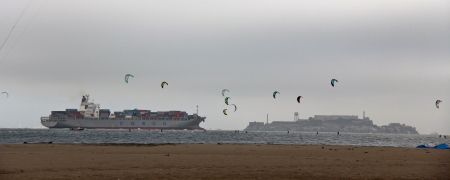 Credit photo Thierry Amour
Alameda. Kids can swim in the Bay, SF skyline in the distance, the beach is nice and... windy most of the time (but is is quite easy to protect oneself).
Ocean Beach… as magnificent as the ocean itself.
Stinson Beach. You will have to drive, but it's really worth: beautiful road, amazing beach and you can count on the show.
Windguru will help you choose the best spot of the day depending on your skills.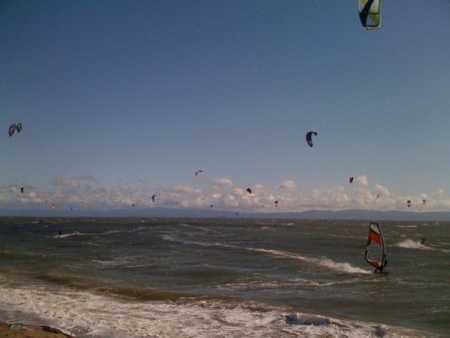 Spots to know to learn and practice :
Kitesurf is great and appealing, but requires a lot of practice. Our best advise is for you to takes lessons to learn the basics, the rules and the technics.
Alameda (Westline drive @ Otis)
Coyote point (near San Mateo in the Peninsula)
Third avenue (a bit further after Coyote Point)
Waddell Creek (a bunch of miles before Santa Cruz. You can't miss the kites from the 1.)
Websites to check and read to get more information, find the equipment and book lessons:

We recommend BAKS (Bay Area KiteSurf) that offers all the gears and stuff from kites to boards by the French brand FOne.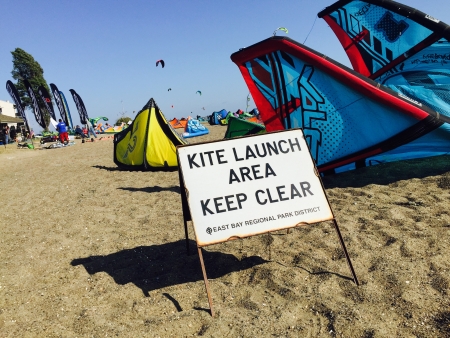 Kite the Bay offers lessons to help you... fly by yourself.
Another reference for kitesurfing lessons.
We have been told that once you tried, you're addicted!
Kitesurf is a art/sport that requires talent, practice, patience and prudence. Think about it, take care of yourself and of the others near you.