How to celebrate Thanksgiving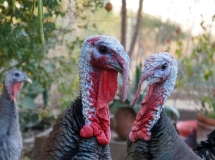 Last Thursday of November
Whether you want to celebrate Thanksgiving at home with your family, with some friends or in a nice restaurant, don't plan your dinner at the last minute.
Here are some tips to prepare a delicious Thanksgiving menu.
If you love cooking new recipes and prepare meals for beloved ones, check the recipes on these websites:
- Epicurious offers an endless list of Turkey recipes. Pick your own one.
- Whole Foods offers recipes and a complete guide to prepare your Thanksgiving dinner.
- If you refuse to be involved in this year turkey massacre (45 millions of innocent turkeys killed and swallowed in just one day in the US! ), concoct a vegan dinner.
If you don't have time to cook anything decent this year, here are some good catering options:
- Relax and rely on Whole Foods catering, which offers many "Thanksgiving dinner packages", from the intimate turkey dinner and the traditional turkey dinner, to the vegan dinner. Order online and in advance.
- Bi-Rite Market is another option with its 2 locations in SF or online.
- Gus's Community Market either on Harrison, Haight or Noriega.
- Of course, think of checking our selection of best butcheries in San Francisco.
For example, the renowned Olivier's Butchery offers a complete Turkey package. It's Turkey time @ Olivier's Butchery. #meettheexpert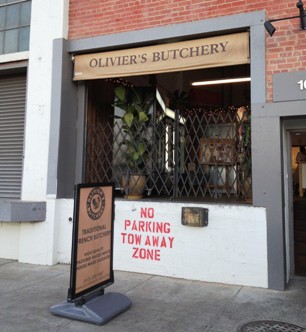 If you just want to enjoy a delicious Thanksgiving dinner with no hassle, go to one of the many restaurants in San Francisco with a Thanksgiving menu. Make a reservation in advance. Here is a list of restaurants!
You could opt for a French restaurant in this long list...
Bouche on Bush, Le Colonial, but also, discover Julia's restaurant in Berkeley... and the very trendy - not only on INstagram - The Girl and The Fig in Sonoma...
... Left Bank up North, and South for a Brasserie style.
... MATHILDE, French Bistro in SOMA. Excellent and generous.
... check the whole list, here.
Revisit the tradition!

If you look forward to your dinner but are afraid of the calories, start your day with some exercice! Sign-up to Turkey Trail Trot, for the run (5 miles) or the family walk (3 miles). Be prepared to wake up early... It all begins at 8am, at the Polo Field, Golden Gate Park.
Happy Thanksgiving to everyone, and bon appetit!