DIA DE LOS MUERTOS IN SF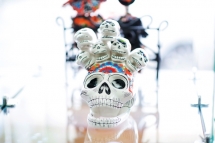 Sugar skulls, colorful costumes, sophisticated make-ups, a parade!
Our best piece of advice... just go and take a walk on 24th street between Valencia and Potrero. Windows are filled up with smiling skulls, musicians and bright colors. You can walk further through Valencia, Dolores, and even Haight.
We like...
Luz de Luna for its galore of items, accesories, jewelry, t'shirts... (3182 24th between Shotwell et Van Ness).
Their window is always amazing. And Heart and Soul just next door, offers also a wide range of jewelries and accessories.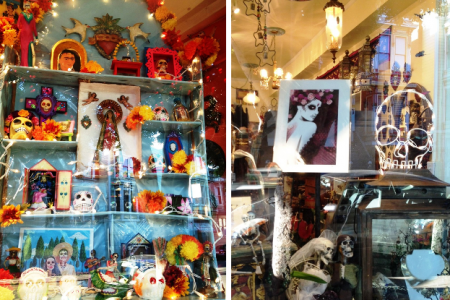 The Bakeries offering special breads for the occasion. One should try the Pan de Muerto with its slight orange taste.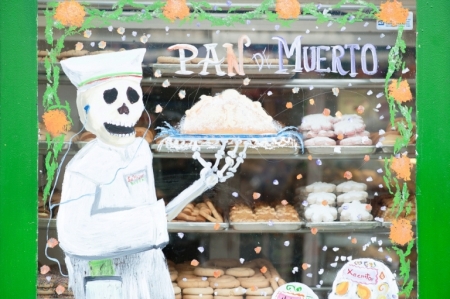 Mixcoatl Arts and Crafts (3201 24th Street)
The store is renowned fot its Mexican wrestling masks who seem tom observe you when you pass by. Mixcoatl used to offer Sugar Skulls painting workshops. Give a call and check this year schedules. (415) 341-4191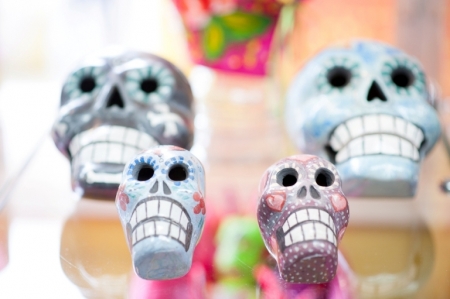 @Mixcoatl
La Galeria de la Raza at the corner with Bryant Street.
The Galeria de la Raza alos scheduled Sugar Skulls painting workshops. Try something new and different.
As usual... Mendels (on Haight Street) for its Dia de los Muertos design fabrics and oil clothes and so many other things. The place is a real treasure chest!
You could and you should...
...go and watch the parade in the Mission on November 2, starting at 7pm from Bryant and 22nd street. The crowd is dense. So be aware of it. The creativity of costumes and face paintings is boundless. More infos about the parade.
... grab a dinner in some Taqueria in the neighborhood.
Take a look at our useful addresses.
... enjoy a family Saturday at the SF Symphony celebrating Dia de los Muertos with 2 concerts on November 3.