Decathlon opens its first Superstore in the US in Emeryville, in the San Francisco Bay Area.
Decathlon settled down in California barely 18 months ago. The French cult sports brand is thriving and is about to open a wide new store, East Bay, in Emeryville.
Sports for All & All for Sports
Decathlon's motto sounds like and is actually a genuine ode to ''Sport'' in particular and all the sports in genral.
We had the chance to go and visit Decathlon in Emeryville right before the official grand opening, with a bright blue sky matching perfectly the brand's logo.
First thing you should know is that the new store is like a piece of France in the Bay Area. When you enter, it is like going into French territory. In France, Decathlon is such a reference, that we all know by heart how stores look like, how the different sports areas are displayed and organized. And Decathlon in Emeryville is really part of the family. It is wide and bright, filled with light, easy to find one's way through the different sports departments. It is pretty convenient to move from one section to another and you feel like you want to try everything... and actually, that's the purpose.
Decathlon Emeryville
In a few words and figures...
Emeryville will be the 1st Decathlon Superstore in the US
More than 80 sports will be offered
You can browse through more than 10,000 products !
A Superstore also with its size: 45,000 sqft !
(6 times as big as the Lab Store on Market Street)
all for sport, in the name of all sports.
The new store will offer the kids products, that are so popular in France, from the scooters to the bikes, from the running shoes to the swimsuits...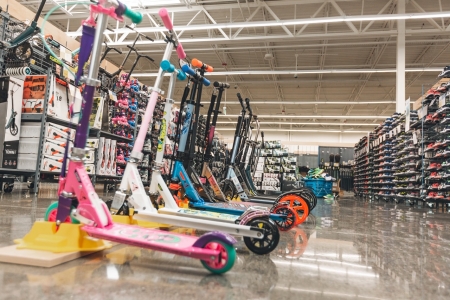 We noticed a beautiful section dedicated to bikes, but also to camping (some tents don't exist anywhere else), to water sports (inflatable paddle boards, boards, wetsuits...), to Pilates, Yoga, soccer... Everything is there.
The purpose is to encourage customers to try. For example, a golf simulator will be available instore.
With this new location, Decathlon will be able to show the best of itself, what really makes this brand different and unique, which is innovative sports gear and products at very competitive prices.
As the Lab Store on Market, Emeryville's SuperStore will be ''cashless''.
The good thing is that the store is really easy to reach either by car or by public transportation (there is even a free shuttle from the nearest Bart station).
From the beginning, Decathlon has been very active to be part of the community and contribute to its thriving. You should definitely follow Decathlon on Facebook and Instagram to find out about all their interactions with the local community, which give even more sense to the phrase ''Sports for All'': A ''motto'' and a mindset.
DECATHLON
Emeryville's Store
Grand Opening April 12-14, 2019