ZINC DETAILS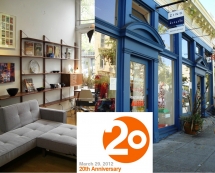 Design landmark store on Fillmore.
Zinc Details is one of our favorite design stores in San Francisco.
Ideally located in one of the most desirable shopping neighborhood in SF, aka Fillmore, the store is like a broad creative treasure chest.
Zinc Details was launched 20 years ago and since then, has become a reference on SF design scene. With a sophisticated, well curated and inspiring selection of home accessories that will make your home unique, innovative gadgets with a touch of design, as well as home furniture from local and well known designers (Bertoia, Starck, Saarinen…) and manufacturers (Blu Dot, Pablo, Alessi, Kartell…), we definitely consider Zinc Details as a design and decoration mecca on Fillmore.
Furthermore, Zinc Details regularly opens its Fillmore location to events and happennings... definitely design oriented, Check the store website to discover whta's next on the agenda.
Zinc Details
1905 Fillmore Street / Bush + Pine
San Francisco, CA 94115
zincdetails.com
Agenda
Movie releases, Festivals & DVDs

Theatre plays, Ballet, Opera

Jazz, Rock, Pop, Symphonic & Co

Museums and Art Galleries

If you have some spare time...