YOU CANNOT RESIST A-WA AND THEIR HIT SONG HABIB GALBI
A-WA, really sounds, looks and resonates like an amazing musical phenomenon: 3 sisters, from Israel, who sing Arabic and make such an impression with their performing live.
The Haim sisters, aka A-WA , will perform in San Francisco this summer.
We had discovered them with their video for their song Habib Galbi : fun, colorful, smart and with this compelling effect that makes you smile and feel like you want to dance.
The A-WA's story, briefly...
The Haim sisters, Tair, Liron et Tagel grew up in a family that initially left Yemen in 1949+ to come to Israel. They spent their childhood in Shaharut, where they actually filmed the vieo for Habib Galbi.
Traditional Yemenite songs and dances are at the heart of their art and style with their own personal touch of Hip Hop aand Electro music. They released their first album last Spring with the already famous on Youtube single Habib Galbi.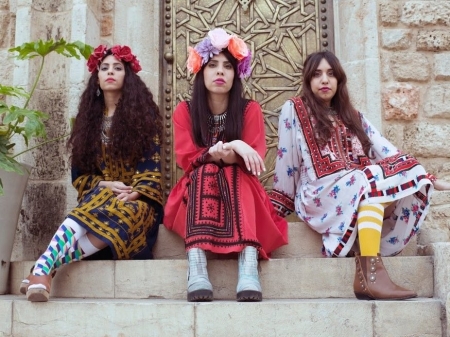 Since then, Habib Galbi (the album) reached #1 ranking in Isarel (which, by the way, never happened for music bands singing Arabic) and met a great success in Europe, especially in France. Their live performances here and there are considered as memorable.
Just listen to Habib Galbi and you will understand how joyous it can be.
For some months, their performed as opening act for Balkan Beat Box. That must have been quite something!
By the way... Balkan Beat Box will perform in Berkeley April 22. Listen to Part of the Glory right after Habib Galbi, and you should feel like a shot of happiness and ease.
A-WA, a great cure against the blues!
A-WA
@ the Fillmore
Friday, August 4, 2017
To buy your tickets, click here.
Agenda
Movie releases, Festivals & DVDs

Theatre plays, Ballet, Opera

Jazz, Rock, Pop, Symphonic & Co

Museums and Art Galleries

If you have some spare time...