You are invited to Leon & George greenhouse ! You will love to be part of the first 50 guests.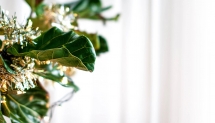 With Leon & George, your future will be greener, happier, healthier. Let's go green...
For a Christmas tree, who said you had to choose a Christmas tree. We mean... needles are fine but leaves are cool too. Don't be that conformist. Leon & George is here in San Francisco to help.
Usually, it is online. But on Saturday, December 16, that will be on land.
Leon & George will open its city greenhouse from 11am to 5pm: a green opportunity to choose directly and find your dream statement piece, or a memorable gift for a dear friend or family member.
> Leafy Wonderland Shop - Leon & George Open House Event
Fig at the top of the Fig Tree... First 50 guests through the door get a free plant!
We recently met Nicolas who is the co-founder of Léon & George, a company that sells plants for trendy offices and homes.
You love all these plants on Instagram. They're big, healthy, fancy, totally part of the interior design, most of the time its center piece. So what prevents you from doing the same in your sweet home? You have no idea which one to choose, are pretty sure you are going to kill it in a week and before you find a Uber to bring your big Fig Tree home... you will have given up and opted for a bunch of tulips... different ambition (...) Read further

Agenda
Movie releases, Festivals & DVDs

Theatre plays, Ballet, Opera

Jazz, Rock, Pop, Symphonic & Co

Museums and Art Galleries

If you have some spare time...