With RAWdance, there are people dancing in the window at 836M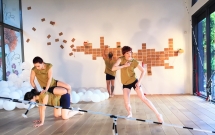 836M Gallery invited the company RAWdance in a pretty original residence where dance gets displayed in its conception and creation. The result is so creative and enchanting.
Since March 15, 2016 and for a couple of hours per week (a bit more that that actually), RAWdance settled down at 836M Gallery as an artistic residency.
The idea is bare and simple, and yet very innovative... Wendy Rein and Ryan T. Smith, the 2 founders of RAWdance, accompanied by 4 dancers, Corey Brady, Kelly Del Rosario, Carly Johnson and Katerina Wong, will create ''live'' a production inspired by La Salle des Espèces Menacées et Disparues du Museum National d'histoire naturelle de Paris (Gallery of Endangered and Extinct Species at National Museum of Natural History in Paris), a very special and kind of magic place.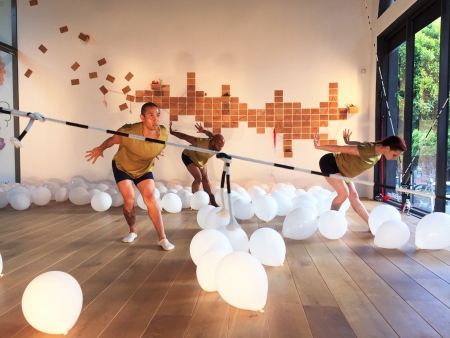 The exhibition consists in weekly installations/rehearsals as weel as in the final performance of ''Without Lonesome George and the Last Martha'' scheduled for June 2, 2016.
Rehearsals/Installations
Starting March 15, 2016
Tuesday and Thursday from 5 to 7pm
Friday from noon to 3pm
Final performance on June 2, 2016
836M already already stood out with great exhibitions like the one showing Banksy's rat for a few months or, more recently, the amazing Peony, The Knot of Shame by the French artist Jean-Michel Othoniel while his Rose des Vents wa installed in front of the Conservatory of Flowers in the Golden Gate Park.
Julie and Sébastien Lépinard founded 836M Gallery in 2015 keeping in mind their passion for art, their wish to share it and their conviction that art has the ability to bring people together and inspire a positive and innovating change.
They collaborated with Agnès Faure who curated the different exhibits so far. She was kind enough to accompany us to a rehearsal. We had then the opprtunity to talk about the Rose des Vents, which just got reinstalled after a total golden refurbishing. Agnès hopes that one day it becomes a permanent SF resident.
We definitely encourage you to take a walk in Jackson Square to spend some time at the gallery. Watching creation process live is a great experience. We witness the questions, the doubts, the investigations, the disappointments and then the delight to have found a great move, the pleasure of the discovery. It takes shape, slowly, tiny step by tiny step. We had the chance to attend a perfoemance a few days ago and we were stunned to grasp some moments that had been barely sketched at rehearsals. Pieces are coming together for this story which aimed at illustrating extinction and de-extinction, loss and legacy.
You will love the setting and scenery details. Wendy Rein and Ryan T. Smith have worked on it with celebrated scenic designer/engineer, Sean Riley. The white balloons are a very simple and sweet idea obviously contributing to the aerial lightness of the whole performance.

Wendy Rein and Ryan T. Smith said they were terrorized in the first place, but then the fish tank effect amused them. And the contact with the audience is so spontaneous and obvious.You will enjoy asking questions and get answers where they expressed their passion and their pleasure to be there.
RAWdance
@ 836M Gallery
March 15 - June 2, 2016
Agenda
Movie releases, Festivals & DVDs

Theatre plays, Ballet, Opera

Jazz, Rock, Pop, Symphonic & Co

Museums and Art Galleries

If you have some spare time...