With LostinSF and Lamia Cuisine Baking, get a taste of the French tradition for Xmas as a gift.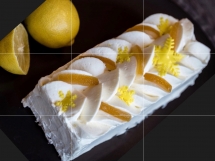 We have a winner.
Christmas is already there, almost there. We are delighted to offer you the ''Bûche de Noël'' that will give a sweet French touch to your Holiday dinner, actually a lemony touch.
LostinSF used to prepare a selection of bakeries having a ''bûche de Noël'' on their Holiday Menus. This year, we decided to make it even more simple and more gourmet than ever. We are telling you about our favorite Bûche and we collaborated with the chef so that we can offer one to you.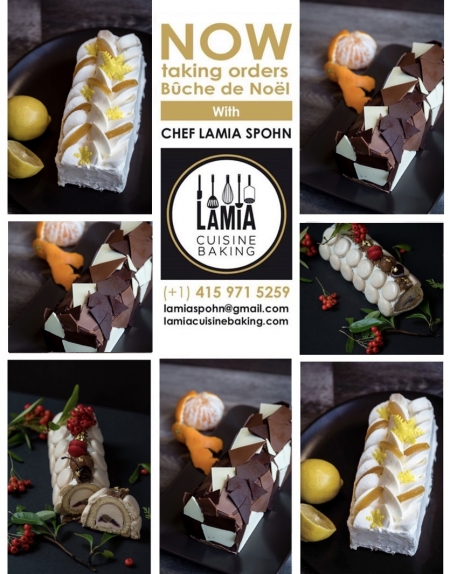 To place your order >> click here
We discovered Lamia's receipes last year. Lamia's bûches are a pure delight and the good news is that they can be delivered in San Francisco and the Bay Area. Here is the story!
About the receipes...
Lamia selected 3 flavors this year including our 2 favorite ones: the Lemon one and the Chocolate one.
The Lemon bûche... how to say it... has a charmingly sweet flavour with a slightly acidulous taste. That is the perfect match between the lemon and the Elderflower mousse.
And the Chocolate-Salted carmel one is a must for all chocolate addicts. Chocolate here and there for the sweet part and a delicate ''salty'' touch thanks to the caramel that makes the whole difference.
About deliveries...
You just need to order your bûche before December 18 and that's it. Lamia will arrange the delivery depending on your address in SF and in the Bay Area.
LAMIA'S BÛCHE CONTEST
To try to win a Bûche de Noël by Lamia, simply answer the following question.
How do you say Bûche de Noël in English?
Email us your answer at [email protected]
Please use only one email address per person.
Specify BUCHE DE NOEL as the object of your email.
Specify also your name to be transmitted to Lamia as well as the city where you would like to be delivered.
1 person will be picked randomly and win a Lemon Bûche (we picked the flavor! Just because we so like it!)
You can participate until Sunday, December 16, 2018 at 6pm.
The winner will be notified by email.
Lamia Cuisine Baking
Can be delivered in San Francisco, Marin, East Bay and South Peninsula
$10 in San Francisco
$15-$20 elsewhere in the Bay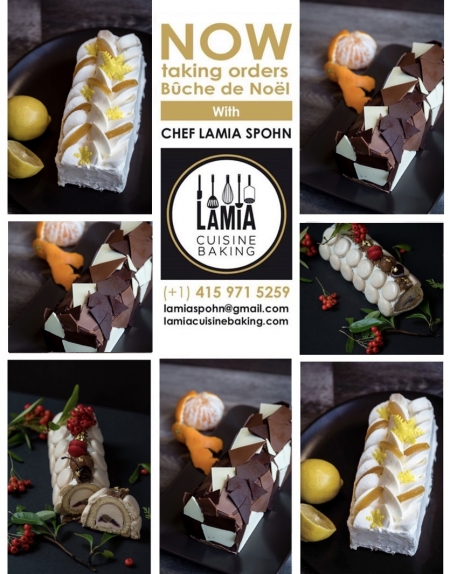 Crédit photos : Florence Dupuy / http://flodupuy.com
Agenda
Movie releases, Festivals & DVDs

Theatre plays, Ballet, Opera

Jazz, Rock, Pop, Symphonic & Co

Museums and Art Galleries

If you have some spare time...