WINTER FAIRS IN SAN FRANCISCO AND THE BAY AREA: THE FINAL COUNTDOWN HAS BEGUN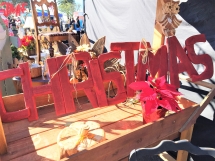 Call them fairs, markets, pop-ups, sales, shows, cafes... it does not really matter. Here is a short list of small, medium and large winter fairs that could change your shopping exercise for the next few weeks.
If you are not the kind of persons who bought all their gifts online between Black Friday and Ciber Monday, our short list of fairs should definitely help you.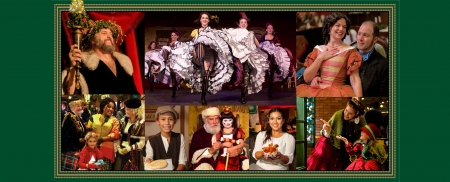 Christmas Dickens Fair
5 week ends until Christmas to wander in the Victorian London.
This fair is definitely a SF landmark among all the events organized during the Holiday season.
Christmas Dickens Fair
Cow Palace
November 18 - December 17, 2017
HOLIDAY MARKET
@ ALLIANCE FRANCAISE DE BERKELEY
The Alliance Française de Berkeley in collaboration with EB (École Bilingue de Berkeley) and SFBA (San Francisco Bay Accueuil) invite you to their Holiday Market.
Les Délices d'Anne > www.delices-anne.com
Emma's Jam > www.emmasjam.com
Sipora Aguia > www.siporaaguia.com
Fillgood.co > www.fillgood.co
European Books & Media > www.europeanbook.com
Chef Sophie > www.sophieledore.com
Minichic > minichic-us.com
Carole Neilson Ceramics > caroleneilsonceramic.com
Les Petits Carreaux > lespetits-carreaux.com
Rue Prince > rueprince.wixsite.com/rueprinceband
Crafts with Agnès > www.afberkeley.org/en/learn-french/youth
Holiday Market
@ l'Alliance Française de Berkeley
2004 Woolsey Street - Berkeley
Friday, Deecember 1st, 2017
4pm - 8pm
Free admission

LYCEE FRANÇAIS - FRENCH WINTER FAIR
A great event to meet French vendors, discover French specialties, to meet parents of the Lycee. Come with the kids for whom arts and craft activities are planned and get information about all the opportunities and options for your kids, offered by the Lycée Français de San Francisco, whether you speak French or not.
La Flamme and its now renowned FlammeKueche will be there!
FRENCH WINTER FAIR
Sausalito Campus - Lycée Français de San Francisco
610 Coloma Street - Sausalito
Saturday, December 2, 2017
11am - 4pm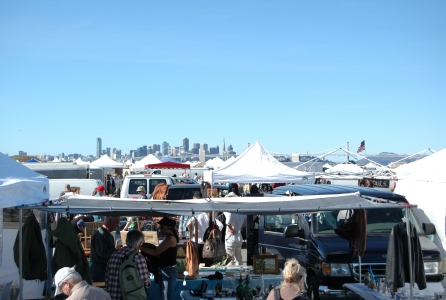 ALAMEDA FLEA MARKET
The flea market with one of the most gorgeous possible view... San Francisco !
The monthly rendez-vous with thrift, vintage, design and antiques. Early birds have the best choice.
Alameda Point Antiques Faire
December 3, 2017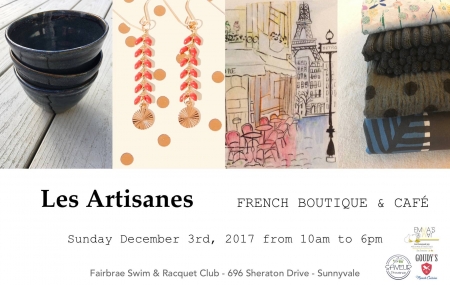 Les Artisanes - French Boutique et Café
Les Artisanes is a group of local French creators offering locally hand made products. They organize every year sale events to share some kind of a French ''savoir faire'' and ''savoir vivre''.
One of the Artisanes, Tiphaine, tells us a bit more about the event...
-
''There will be about a dozen of us presenting our creations in arts and food. There will be bags (Anne Vantalon), scarves, soaps (Magic Earth), paintings by 2 different artists (Geneviève Chiari and Myriam Mardinian), pottery, jewelry Poesy (by myself:-))
_
Les Artisanes - French Boutique et Café
Sunday, December 3, 2017 / 10am-6pm
696 Sheraton Drive, Sunnyvale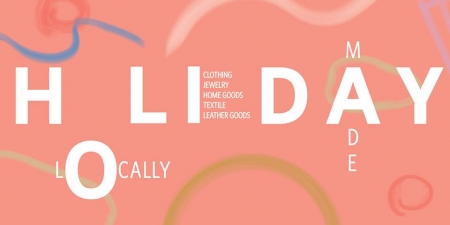 LOCALLY MADE: HOLIDAY POP UP
You've got the picture. Local talented vendors in our beloved Inner Sunset.
Backbeatrags | BackBeatRags.com
Blume Studio Jewelry ​ | jewelry.blumestudio.com
Carole Neilson Ceramic | caroleneilson.com
Home Sweet Flowers | homesweetflowers.com
ODSY Workshop ​ | odsyworkshop.com
Munbeibi Design Studio | munbeibi.com
SFXO | sfxo.co
Locally Made: Holiday PopUp
@ The Little Lodge
1306 12th Avenue - Inner Sunset
December 7-8-9-10 & 14-15-16-17, 2017
11am - 7pm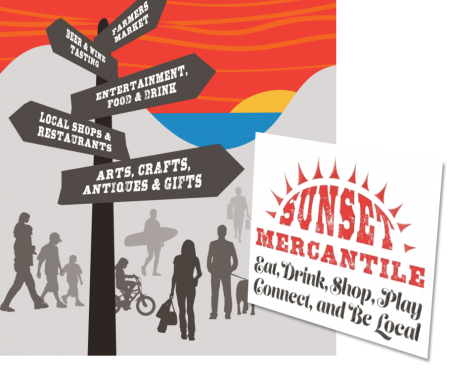 Sunset Mercantile Holiday Market
Top event with a galore of local vendors we love.
Holiday Mercantile
S.F. County Fair Building
1199 9th Ave. at Lincoln Way - Golden Gate Park
Sunday, December 10, 2017
11am - 5pm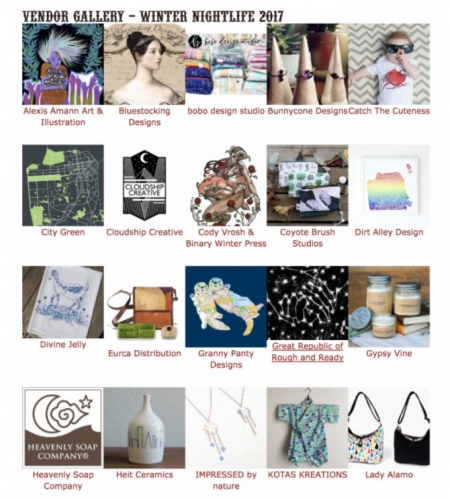 SF Bazaar at Nightlife
December 14, 2017, a quite different Nightlife at the Academy of Sciences with SF Bazaar that will gather dozens of local vendors over there. Have a great evening and enjoy your shopping.
SF Bazaar at Nightlife
Thursday, December 14, 2017
6-10PM/ 21+
California Academy of Sciences
55 Music Concourse Drive
Golden Gate Park, San Francisco
Cost is $15 pp/$12 for members
Browse all vendors, here.
HAPPY HOLIDAY - JOYEUSES FÊTES
Related articles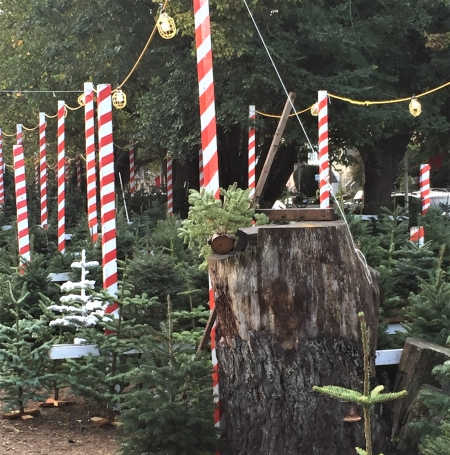 Where to buy your Xmas tree in San Francisco ?
Christmas is around the corner. Here is our selection of addresses where you can buy your christmas tree. They are for every budget and every taste: ready to go, ready to cut and ready to grow! Read more.
Agenda
Movie releases, Festivals & DVDs

Theatre plays, Ballet, Opera

Jazz, Rock, Pop, Symphonic & Co

Museums and Art Galleries

If you have some spare time...