WIN YOUR TICKETS TO SEE THE FRENCH FILM 120 BEATS PER MINUTE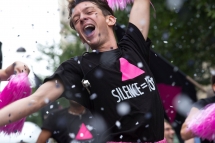 120 Beats per Minute, the movie won the Grand Prix at the latest Cannes Festival. It is presented at the Mill Valley Film Festival. We invite you to join us to the first screening.
Win 2 tickets
to see 120 Beats per Minute
in MILL VALLEY
on October 8, 2017.
The movie could represent France at the next Oscar Ceremony. To try to win 2 tickets to see BPM (Beats per Minute), simply answer the following question.
Which award did the movie receive at the latest Cannes festival?
Email us your answer at [email protected]
Please use only one email address per person.
Specify 120 beats per minute as the object of your email.
Specify also your name to be transmitted to the organizers for the will call.
1 person will be picked randomly and win 2 tickets to see 120 BEATS PER MINUTE at Sequoia 2 in Mill Valley on October 8, 2017 at 8:15Pm.
You can participate until Sunday, October 8, 2017 at 9am.
The winner will be notified by email in the morning.
Set in the early 1990s, the film depicts a group of HIV/AIDS activists associated with the Paris chapter of ACT UP. Here is the trailer...



> The French films at the Mill Valley Film Festival

As usual, October rhymes with cinema! The renowned Festival will open October 5, 2017 for 10 days of cinema celebration. At LostinSF, we made our selection, very French one, of 6 films, like 6 ideas to inspire you and to make you want to go (...) Read more









Agenda
Movie releases, Festivals & DVDs

Theatre plays, Ballet, Opera

Jazz, Rock, Pop, Symphonic & Co

Museums and Art Galleries

If you have some spare time...