Who are the French artists who will perform at Coachella this Spring?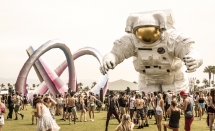 2019 Coachella edition will have a serious French accent.
Coachella just revealed the line-up for the upcoming Festival. And it does include many French artists. As usual, electro music is pretty well represented, but there will be also some pop music and definitely a great style.
Some artists such as Angele or Therapie Taxi could have been invited. They will most probably be next year. In the meanwhile you can check them on Youtube or Spotify or wherever you want to. Mostly in French but not only. They are rising stars now in France and they deserve it.
Below is the list per day at Coachella of French - French speaking - a bit French - with a French something artists.
On Friday, April 12 & 19, 2019...
♦ CHARLOTTE GAINSBOURG
They could have invited her last year already. She is not exactly the artist you would expect at that kind of event. Hope she will come to a tinier venue in SF. Anyhow, we saw her years ago at the Palace of Fine Arts and she was awesome on stage.
♦ DJ SNAKE
Different style... Coachella regular.
♦ POLO & PAN
So successful. Sold out concert at the Independent last June. They came back to SF last Fall for the Treasure Island Music Festival.
On Saturday April 13 & 20, 2019
♦ AGORIA
We did not know him but went but found out already and discovered Embrace for example. Pilar of the Electro scene in Lyon, he contributed to the creation of ''Les Nuits Sonores'', great local Electro music Festival. And then, take a look at this last video...
♦ CHRIS-tine and the Queens
She was in SF just a few weeks ago. Will probably come back with her brilliant and sophisticated choreographies.
♦ CloZee
Young artists from Toulouse. She has been touring a lot and built her reputation on her live performances. She is mixing different styles such as glitch-hop, trip-hop and world music.
♦ FKJ
So successful. He will give 2 concerts in a raw at the Warfield in between 2 Coachella's performances. Not so many artists can aim for it.
♦ JAIN
Her charm always work, over and over again. Sold out concerts in San Francisco at the Independent and the Mezzanine. She told us she would come back. Cool for her, cool for us.
♦ PARCELS
Not really French... but with a certain inclination. And their success in France is another reason we mention them here. They will be in SF and Santa Cruz in between their concerts at Coachella.
And on Sunday, April 14 & 21, 2019...
♦ GESAFFELSTEIN
A Coachella and SF regular. As 1015 Folsom.
♦KAYTRANADA
Born in Haiti, he moved to Montreal and grew up there. In 2015, he was already invited to the Festival and performed at Stanford right after.
♦MEN I TRUST
Soft electro pop music from Montreal. They will perform at the Great American Music Hall in February. Go and check by yourself.
Photo by Andrew Ruiz
Agenda
Movie releases, Festivals & DVDs

Theatre plays, Ballet, Opera

Jazz, Rock, Pop, Symphonic & Co

Museums and Art Galleries

If you have some spare time...