Where to buy a X-Mas tree in San Francisco and around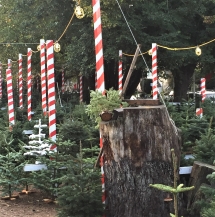 Christmas is around the corner. Here is our selection of addresses where you can buy your christmas tree. They are for every budget and every taste: ready to go, ready to cut and ready to grow!
"Ready to go" Christmas trees
There are dozens of Christmas Tree Lots everywhere in San Francisco and the Bay area. Family businesses or organizations, buying your tree in one of these lots is a way to encourage local business or a social cause. It's up to you!
LostinSF's selection:
FLOWERCRAFT GARDEN CENTER
They have been offering a wide range of plants for 40 years now. People who grew up here remember them from their childhood.
550 Bayshore Boulevard
CHRISTMAS TREE JAMBOREE
Another family-run business, with a detailed website.
531 Bayshore Blvd, SF
Open 7/7, 9am-9pm, delivery.
DELANCEY STREET TREE LOT
A good option if you want to help the Delancey Street Foundation. Their Tree Lots all around the bay provide sales training to people who once had their lives devastated by drug or alcohol. It is a great opportunity for them to live successfully in the mainstream of society.
Pier 32, Market Street @Sanchez, Bryant @15th street, Oakland, Berkeley...
GUARDSMENTREELOT
> Guardsmentreelot at Fort Mason will officially open on November 25, 2017. It is a tradition. The Saturday right after Thanksgiving.
Fort Maison's Festival Pavilion becomes a gigantic forest once a year. The proceeds benefit to a charity that provides the possibility for at-risk youth of the Bay area to join a summer camp! You can (peacefully) kill two birds in one stone while buying your tree!
Open every day from 9am to 9pm.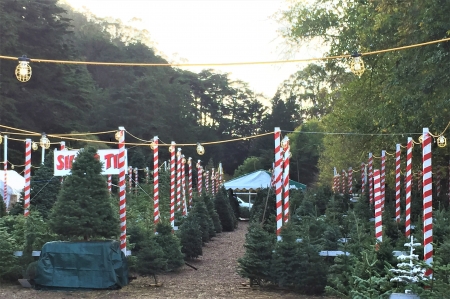 CLANCY'S CHRISTMAS TREE
Family-run business (the same that offers the pumpkin patch in October for Halloween). Besides trees, your kids can enjoy the little farm.
1620 7th avenue, SF
Every day from 9am to 9pm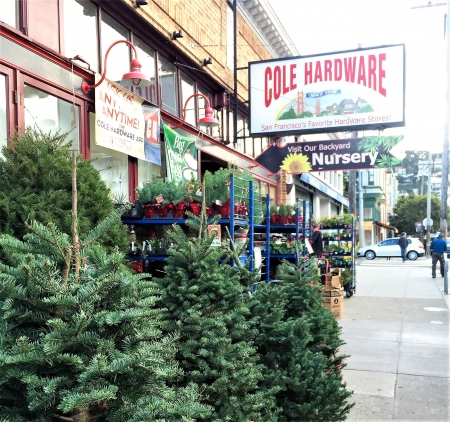 COLE HARDWARE
Because you can find everything and beyond at Cole Hardware stores! www.colehardware.com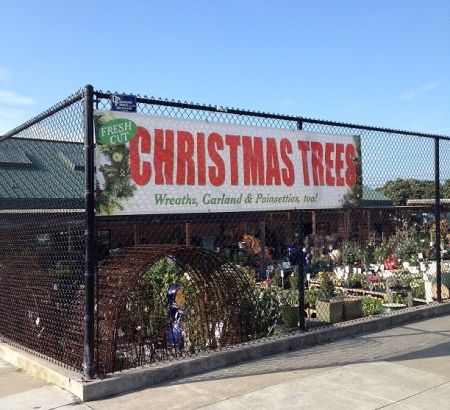 SLOAT GARDENS
A lot of different locations all throughout the Bay Area. They are real experts in gardening and beyond. We love their SF locations, especially the one on Sloat near the SF Zoo and their annex in the Inner Richmond on 3rd Avenue.
2700 Sloat Boulevard
327 3rd Avenue
3237 Pierce Street
Of course... they were first in our selection of great nurseries in San Francisco and around.
"Ready to cut" Christmas trees
Feeling like putting your feet in a woodcutter's shoes?
Drive your family to the countryside, take pictures of your kids enjoying live entertainements, choose a tree, and become a lumberjack for one day!
Half Moon Bay
Skyline Tree Farm
Los Gatos
Castro Valley Christmas Tree Farm
Castro Valley
Little Hills Christmas Tree Farm
Petaluma
"Ready to grow" Christmas trees
Why not buy a planted tree and enjoy it every day all year long? Go very green with this long lasting solution.
Find your tree at Sloat Garden in one of the Bay's locations.
Need some inspiration before buying your own Christmas Tree?
Walk through San Fancisco and discover our Top 7 X-mas trees in town : gigantic, poetic, fantastic, holistic, lunatic, ... everything but plastic!
Last but not least...
The Christmas tree
The DIY way
Of course, what a great idea!
Pretend it is your kids' idea, and yet, you should supervise the whole operation, provide some materials and then? What a satisfaction!
• no pine needles all over the house:-)
• no burden to get it of it after the Holidays
• you spared a tree
• could possibly be cheaper in the end
Which is not a reason not to do something good. You can still donate to a local association for example. #Holidayspirit
A few ideas to inspire you > Creative ideas for Xmas trees
and...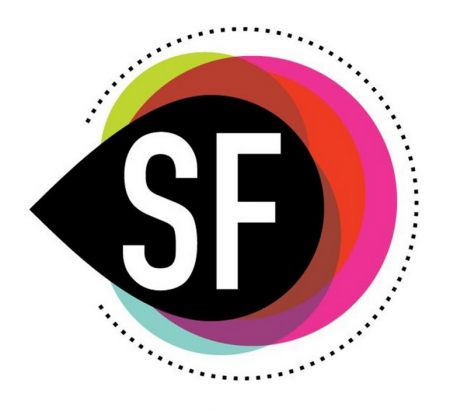 Agenda
Movie releases, Festivals & DVDs

Theatre plays, Ballet, Opera

Jazz, Rock, Pop, Symphonic & Co

Museums and Art Galleries

If you have some spare time...