What makes a Parisian... a Parisian?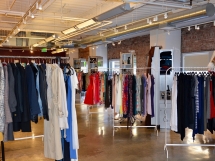 What makes a Parisian... a Parisian? There are a few signs actually that don't lie, like - and I would not want to sound too Parisian... - her clothes of course and her hairstyle for sure.
The clothes certainly, the shoes for sure, the nice layered haircut, the make-up... and the French accent, of course, but that one, you can't buy it, even second hand.
That being said... you won't be surprised to learn that the Parisiennes in SF (It's their new name. The ''in SF'' extension that we are pretty familiar with, is a good tip to geolocalize them... thus you.) are back with a second Pop-Up event at Atelier Emmanuel.
The POP UP EVENT
1000 sq. ft space filled
with 1000 deals on Parisian brands items
3 free animations (head massage, eyebrow bar and blow dry)
All the brands we love.
French brands in SF are either... not in SF, or pricey in SF, or also intermittently in SF like Sezane that has been collaborating from time to time with Madewell for example.
Ultimately, we can reasonably say that it could become a fashion faux pas not to buy 2nd hand...
Here are the brands that you will find at Atelier Emmanuel on December 3...
Sezane - Maje - Sandro - Ba&sh - The Kooples - Comptoir des Cotonniers - Claudie Pierlot - Les petites - Les Petits Hauts - Zadig et Voltaire - Berenice - Joseph - IKKS - BCBG - Zara - Mango - Vanessa Bruno - Gerald Darrel - Longchamps - Jonak ...
And some luxury brands such as: CHANEL - Hermes - Burberry - Louis Vuitton - Louboutin - Jimmy Choo - Ères - Dior...
EVENT DETAILS
Monday, December 3, 2018
6pm to 9pm
- Atelier Emmanuel -
- 415 Stockton Street (4th floor) San Francisco -
Admission : 5$
- Register on Evenbrite -
>> https://lesparisiennes-in-sf-vide-dressing-women.eventbrite.com
Payment : cash or Venmo or Paypal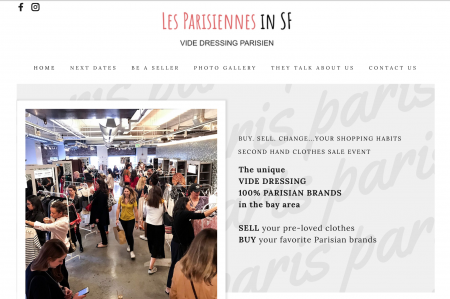 Agenda
Movie releases, Festivals & DVDs

Theatre plays, Ballet, Opera

Jazz, Rock, Pop, Symphonic & Co

Museums and Art Galleries

If you have some spare time...