Whale watching near San Francisco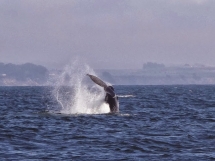 Santa Cruz, Capitola, Baie de Monterey
Observing whales in their natural habitat is always an amazing experience! Whales come along the California coast during fall season. Don't miss the show !
A friend shared with us her Whale watching trip with pictures and advice. Thank you!
Humpbacks, Blue whales, Gray whales... and their calf are feeding in Monterey Bay during fall season! Humpback whales are usually there in October. Gray whales begin their southward migration in October and could be seen later in December.
Of course if you are lucky you could see them from the coast, but observing them from one of the wahle watching boat is much more fun and interesting. There are many tours offered in the Bay Area, from San Francisco to Santa Cruz or Monterey. A sightseeing tour from Santa Cruz is approximately 3 to 4 hours. Book your ticket with this tour.
The best is to book 24 to 48 hours in advance. And make sure it won't rain. Tours can not garanty that you will see whales or dolphins (this is not Sea World!) and you might come back disappointed. Ask someone if whales were seen on previous days or check online when whales start their migration.
Bring warm clothes with you and eventually motion sickness medication. And don't forget binoculars and cameras!
And while you are there, finish your day trip on Natural Bridges beach in Santa Cruz. It's a excellent vantage point to see migrating whales and birds. It's also a monarch butterfly reserve.
Click on the image to see photos of whales.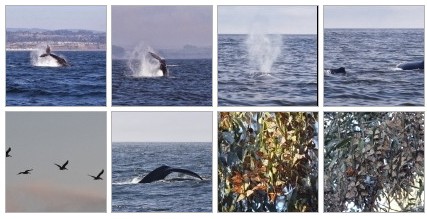 Santa Cruz is about an hour and 15 mns from San Francisco. Just add 45mns to head further to Monterey.
Regarding the news... about 6 dead whales in 5 weeks! Nevertheless, some experts say we should not worry too much.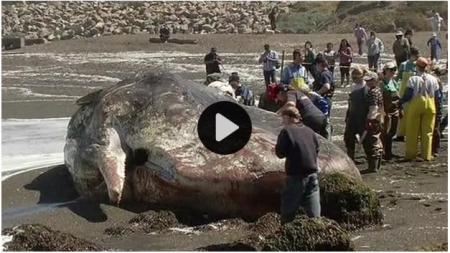 And on CBS, they keep track of the 6 dead whales whashed onto Bay Area shores within the five weeks.
Read their article.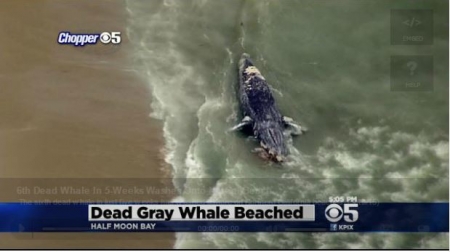 Agenda
Movie releases, Festivals & DVDs

Theatre plays, Ballet, Opera

Jazz, Rock, Pop, Symphonic & Co

Museums and Art Galleries

If you have some spare time...