Waterbar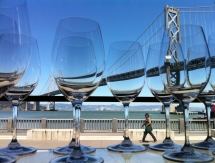 This restaurant should be in your address book if you like fish!
Not to mention its breathtaking view on the Bay Bridge!
We like: extra fresh fish dishes, perfect location just by the water and the Bay Bridge, possibility to be seated in a large -still quiet- dining-room or at the sunny terrace.
We also like this restaurant for its multiple options: drinks at the bar, lunch menu (under $30), kids menu, oyster menu ($1 each at happy hour), and you can even book the upper level for a private party for up to 50 people.
Whether you're looking for a spot with friends and family or a chic place for business purposes, the Waterbar does it all.
We liked the ceviche (fresh and not too spicy), the grilled calamaris, and the menu has so much to choose from that we need to find another excuse to return.
Hey, what about a brunch at the sunny terrace after the Ferry Plazza farmers market this Saturday?
Waterbar: 399 The Embarcadero, SF
415 284 9922
Agenda
Movie releases, Festivals & DVDs

Theatre plays, Ballet, Opera

Jazz, Rock, Pop, Symphonic & Co

Museums and Art Galleries

If you have some spare time...