WALK SF TOURS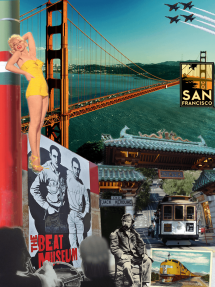 Walk SF to discover the city! A great team to follow through their guided tours. And if it happens you want the story in French... that's an option!
Walk SF Tours offers since July 2013 guided tours to discover historical neighborhoods: The Gold Rush drinking tour, The Beats in San Francisco and The Chinatown & North Beach tasting tour.
The walking tours are designed to provide an authentic experience and engage one's senses, such as tasting delicious Dim Sum in Chinatown or enjoying a 19th century cocktail in an old saloon.

Whether you are interested in discovering more about the struggles of the Chinese and Italian communities or simply want to know the gritty details of the most notorious Barbary Coast deadfalls, Walk SF Tours invites you to engage your imagination and see San Francisco in a whole new way.
We hope that the team will even add new neighborhoods to explore. If you want the whole story from the Beatniks to the Hippies, you can also visit Haight Ashbury, and then grab the whole picture.

Walk SF Tours

To make a reservation and read moreClick here. about the team:

Click here

Agenda
Movie releases, Festivals & DVDs

Theatre plays, Ballet, Opera

Jazz, Rock, Pop, Symphonic & Co

Museums and Art Galleries

If you have some spare time...