VIVE LA TARTE JUST TURNED ONE!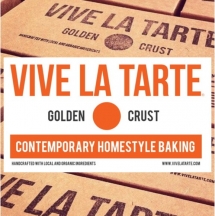 An evolving catalog, new savors to discover, recipes that revamp the tradition and a new location for their Atelier!
For the occasion... Vive la Tarte offers a Special Deal, exclusively for LostinSF readers! Enjoy! It lasts until November 30, 2012.
We fell for Vive la Tarte a year ago. At that time, we introduced them (Julie and Arnaud) to you. We went back and met them for a quick interview, that could be entitled: "Please, Vive la Tarte, tell us about..."
Tell us about your "1 year" here in SF.
We had a tremendous first year in San Francisco with great collaborations and enthusiastic customers, whose number keeps growing.
We owe a lot to some renowned Chefs who trusted us from the beginning. For instance, thanks a lot to David Hollands (from the Marquis) who barely made the first order after we launched Vive la Tarte.
Thanks a lot also to the startups (like Kontagent) and tech companies, that are among our customers. At last, we wanted to thank our individual customers who contribute everyday to support Vive la Tarte through word of mouth!
Tell us about your new location...
We moved to a new Atelier, located on Post Street, just a few blocks away from Union Square. It combines two main advantages: being closer to our professional customers and making it easier for our private ones regarding the pick-up for instance.
The Atelier is way more spacious than it used to be and allows us to welcome and accommodate a growing team. We just love it!
Tell us about the new recipes.
One one hand, the primary idea was to follow the seasons and offer new tarts recipes for each of them. We recently introduced new Fall ingredients, including Asian pears, figs, turnips and Brussels sprouts.
On the other hand, we definitely wanted to be creative. For Thanksgiving, we offer a pie with Turkey, cranberries sauce and "gravy" and also one with sweet potato, winter squash and chestnut.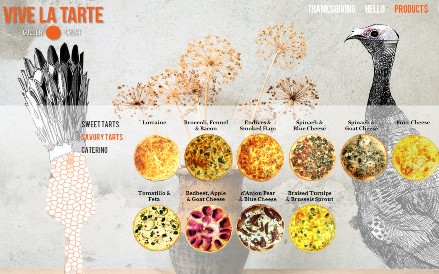 Tell us how to place an order
Just contact us 24 hours in advance (email, Twitter or phone call).
Then one will have a choice and can either come and pick his-her order at the Atelier (open from Monday to Saturday) or have it delivered at home (on Monday and Friday afternoon, only in SF.)
We also have a catering offer for breakfast and lunch (croissants, yogurts, coffee, fresh juices) and lunch (savory tarts, salads, cheese and charcuterie...) Delivery and set-up are included in the offer.

Tell us about your neighborhood and your favorite spots over there.
Our neighborhood - commonly called TenderNob - (Nob Hill adjacent to Tenderloin) has got some hidden gems like "Big", whose barman ("mixologist") offers you a custom-made cocktails, or like "Sweet Woodruff" that offers a simple and yet inspired cuisine (same owners as "Sons & Daughters").
Let's give you a quick peak on the "Winter collection" that was just released...
You should fall for the new seasonal creations like the "orange tingled chocolate tart". The Sweet Potato and Pumpkin tart as well as the Figs and Almond cream one joined the winning gourmet team of the Cheesecake, Crème Brûlée and Lemon Meringue tarts. We crave for them!
There are also some newcomers on the Savory tarts menu like the "d'Anjou Pear and blue cheese" or the "Redbeet, apple and goat cheese". Isn't it time to eat already?
Vive la Tarte is also Vive la Salade! with tempting and fresh receipes: "Autumn" (red beet, Fuji apples and local gouda), "Casablanca" (a taboule reinterpreted with Quinoa instead of couscous) and "Naxos" (artichokes).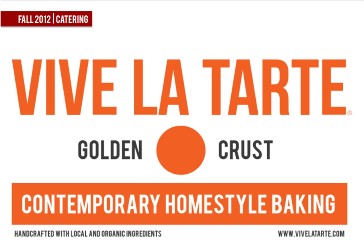 Click on the picture to check the whole catalog.
Great deal for our LostinSF readers on behalf of Vive la Tarte! Get 10 to 20% on the tarts you will order. The deal is on from November 20 til November 30! Order quickly and enjoy!
VIVE LA TARTE
761 Post Street (between Leavenworth & Jones)
Monday through Friday: 8am - 6pm
Saturday: 10am - 4pm
Agenda
Movie releases, Festivals & DVDs

Theatre plays, Ballet, Opera

Jazz, Rock, Pop, Symphonic & Co

Museums and Art Galleries

If you have some spare time...