VIVE LA TARTE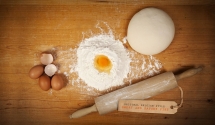 A couple of young Belgian foodies entrepreneurs, Julie & Arnaud, recently started a new company in the Bay, Vive la Tarte. Both "gourmand & gourmet", the project is so attractive and appealing.
Vive la tarte! It is all about "tartes" which are not pies. There is a difference that does not only rely on the language.
Otherwise, what make them so unique?
Basically, they're delicious!
We can also tell you that:
- Julie et Arnaud found a source of inspiration in the cookbook "Le livre de Cuisine à 4 mains". Quite renowned in Belgium, the book was written by two members of their family who already honored their family tradition that Vive la Tarte kind of keeps alive here in California.
- They also got inspired by the very present Bistronomy concept, that emphasizes authenticity and quality when it comes to gastronomy, luxury and snobbery being set aside. They totally match it with their tarts that are quite a traditional and simple dish, but they did not neglect any details to use the best ingredients and follow a very specific cooking process.

- Crust is hand made according a traditional receipe that implies a 3 days process. When it comes to ingredients, seasonal, local and organic becomes an assessed commitment. But chocolate is from Belgium. Makes totally sense! There is nothing to complain about.
- 8 sweet receipes and 7 savory ones according of seasonal current products. The choice should be renewed regularly, with the seasons. Another thing we won't complain about.
- They also offer individual bites or cups that look terrific. Perfect for a party with a lot of guests.
- In the end, Julie & Arnaud systematically will donate the unsold pies to the SF Food Bank. A way to be part of the community and contribute positively and effectively.
Vive la Tarte started its business last September and already provides some renowned hotels such as the Marriott Marquis or the Hyatt Regency.

Now, you should be convinced and want to try them. We definitely loved the San Francisco Cheesecake, a pure delight that brillantly renew this cult receipe. With or without the soft Italian meringue, you won't be the only onee to become fond of the Lemon tart. Simply order the ones you want and you will be delivered at home within 2 days. Sounds perfect!
Long live the tarts with Vive la Tarte!
All the details on their website, especially to order by phone, email or even twitter!
Delivers SF and the Bay Area.
Agenda
Movie releases, Festivals & DVDs

Theatre plays, Ballet, Opera

Jazz, Rock, Pop, Symphonic & Co

Museums and Art Galleries

If you have some spare time...