Victor Solf is Her on stage and on tour paying tribute to Simon Carpentier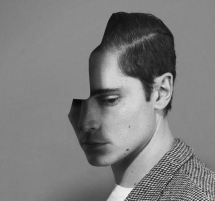 The story of Her, the French duo formed by Victor Solf and Simon Carpentier is a tragic story, and yet a beautiful and powerful one, filled with and built on art, music, friendship, life and respect. Victor Solf will perform in San Francisco on May 12, at the Cafe du Nord.
For Her, 2017 could and should have been an incredibly successful year, with concerts and an album about to be released. But it was on the contrary the chronicle of a death foretold. Simon Carpentier passed away on August 13, 2017 of a cancer. He was only 27....
Her's story is so moving and overwhelming. These 2 friends, 2 partners in art and music, knew that the outcome would be tragic and irreversible. Nervetheless, they kept on with the concerts and the album conception. And they actually agreed on the fact that Her should go on.
Victor has been performing on stage, paying tribute to Simon and also moving on with his mourning.
You should love their music, style and visual world. Their videos display ultra beautiful images that sustain their music, sweet and yet powerful, sober, simple and plain. Like Five minutes for example.
Her's album (with the same title) got finally released on March 30, 2018. Some weeks before, We Choose was revealed. Stunning and heart-wrenching.
Victor Solf will be on stage at the Café du Nord on May 12, 2018. In that very special venue, the public and the artist make one, which should definitely help Victor in such a symbolic and demanding performance.
We have just one slight comment... we regret that the Cafe du Nord and the Swedish American Hall programed 2 French artists the same evening, Fakear and Her, 2 artists we don't want to miss.
Her
@ the Cafe du Nord
On May 12, 2018
To buy your tickets, click here.
Agenda
Movie releases, Festivals & DVDs

Theatre plays, Ballet, Opera

Jazz, Rock, Pop, Symphonic & Co

Museums and Art Galleries

If you have some spare time...