Used is the new new! Make it your own fashion motto.
Second-hand stores are about to become the new way to shop - and actually to dress up - for fashionistas. You are not quite sure? You still hesitate? Still doubt it? Here is our... illustrated demonstration.
Sabrina Bot, our favorite photographer at LostinSF, met with Chloé Fleury and Kristen Philipkoski, and offered them to express their own fashion inspiration through a special photo session with them as models.
Chloé Fleury liked the idea and accepted to be part of the game. The French, San Francisco based, artist is renowned for her creative foldings and cuttings turning flat paper sheets into 3D shapes and objects. We love her animal creations, especially the elephant, the raccoon and the flamingo. But check by yourself her sweet, colorful, inspiring online boutique.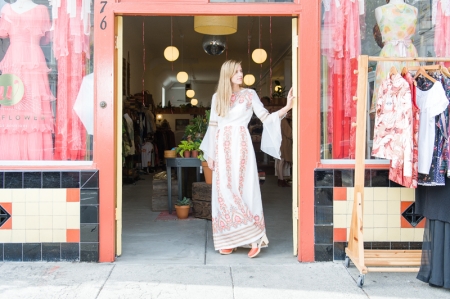 Photo by Sabrina Bot
For this photo shoot with Sabrina Bot, Chloe Fleury opted for a Boho look with a dress found at Wallflower and clogs from the very local brand BRYR whose workshop is located in the effervescent Dogpatch neighborhood.
Photo by Sabrina Bot
And Kristen ...
Photo by Sabrina Bot
''The caftan is from Reliquary and it's one of my favorite, easy pieces. The shoes are Freda Salvador, and the Margiela clutch is an eBay score.''
Kristen Philipkoski, fashion, style, travel, beauty blogger with a serious - as in certain, sure, positive and professional - SF twist that we really like (Stylenik), also accepted our invitation and chose 3 different styles, a casual one, another casual one of a kind with denim overalls, and a rather dressy look to finish with.
Photo by Sabrina Bot
''The Big Smith engineer overalls are from Wasteland. I actually had them altered so they wouldn't be quite so baggy, but they're still very loose and comfy. The Chloe bag is vintage from Simply Chic. I bought the Brixton hat in Brooklyn, the tee is American Giant, and the bracelets are from The 2 Bandits. The booties are Shoes of Prey.''
Photo by Sabrina Bot
''The black silk dress is Valentino, purchased at Mira Mira recently when the shop-owner sold select items from her closet—keep an eye out for her to do it again! It was such a score for only $50! The gold belt was my mother's necklace from the '70s, the clutch is Hayden Harnett and the booties are Topshop from Crossroads Trading.''
Still skeptic? Honestly, eco-fashion - that does not prevent from some ''folie douce... on the contrary, it most probably does encourage and nourish it - happens to be so creative and exciting. We are total fans, so addicted already.
Beyond the economic impact - on your own personal finances and on the global fashion industry - beyond the environmental impact too, fashion, in its vintage, second hand, thrift, recycled version, is so appealing.
Actually, everybody is involved. Let's just think of H&M and its ''conscious'' claim or TopShop and its Reclain collection. By the way, Topshop... to find it in SF, vintage stores will be helpful. They are huge symbols in the wide eco-fashion environment..
Simply add some considerations, such as...
Throwing away or discarding is not trendy any longer! (except if you make it a donation. Then you contribute to the whole recycling circle!)
Life is so expensive!
Everybody looks alike and wear the same stuff!
Then you will get the whole picture and understand to which extent this new way of buying is also a way to stand out and be different. To make it even easier, from charity stores to fashion vintage boutiques, they all do their best to make sure that buying used feels like buying new.
Our own experience... we dove into this adventure some months ago ang got definitely addicted. It is like finding some rare gems. Buying becomes even rewarding. Afterwards, it's almost boring to get back to traditional stores.
To help you and maybe inspire you, here is our selection of best second hand stores by San Francisco neighborhood with different nuances according to shopping and clothing styles. From thrift to vintage chic stores.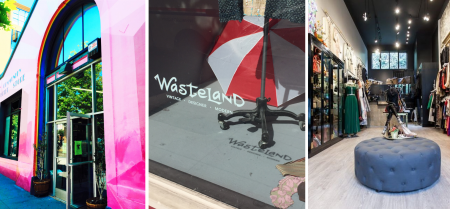 Agenda
Movie releases, Festivals & DVDs

Theatre plays, Ballet, Opera

Jazz, Rock, Pop, Symphonic & Co

Museums and Art Galleries

If you have some spare time...