TREE LIGHTINGS IN SAN FRANCISCO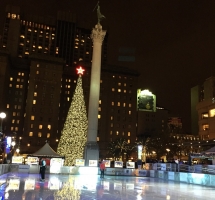 Starting as early as November 19, 2017 in San Francisco. 7 illuminations you don't want to miss. Follow the guide...
Family and wallet friendly : everything is free and kids are the guests of honor! Print the San Francisco map below and pencil the dates in your diary!
1. Pier 39, the most Disney Tree in SF!
It all starts over there at Pier 39. It is almost too early. But that's the way it is for years. This year, expect some performers from the Lion King to show up!
Embarcadero - Pier 39
Tree lighting celebrations
Sunday, November 19, 2017
From 2pm to 6pm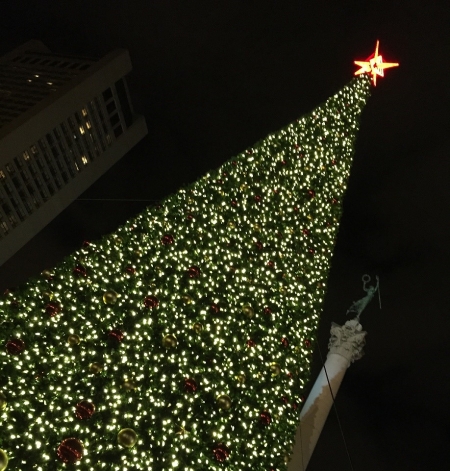 2. Union Square Tree, the most popular San Francisco Christmas Tree
This 80 foot tall tree is certainly the most visited tree in San Francisco. It is Macy's tribute to Union Square, every Christmas.
The tree lighting celebration will be held on Friday, November 24, 2017 at 6:00 pm. If you can't make it that day, don't worry the tree is lit every night with its 33,000 energy-efficient LED lights.
Kids can also visit Santa at Macy's on the 7th floor until December 24th. Even better, they can also write and decorate a customized letter to Santa on Macy's website, print it at home and bring it to the store and put it into the dedicated Santa's letterbox. Each letter will generate a one dollar donation to the Make-A-Wish-Foundation (up to $1 million).
Union Square downtown SF
Macy's Union Square 7th floor – 170 O'Farrell street, SF.
3. Westfield Mall under the Dome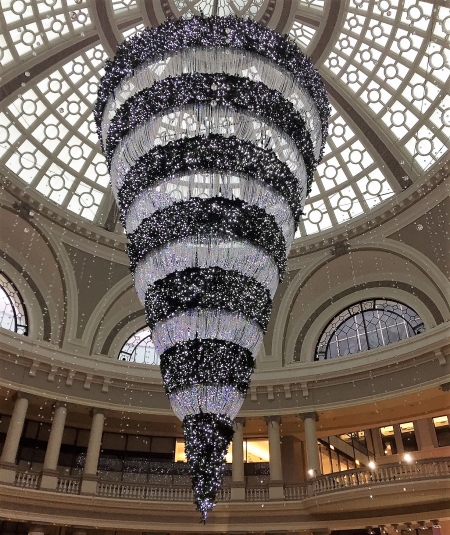 It became a star on Intagram for its first illumination in 2016. Lighting is scheduled for November 30 and a RSVP is required.
2nd Annual Tree Lighting
Westfield San Francisco Center
Thursday, November 30, 2017
6 to 8pm.
4. The World Tree of Hope, The most peaceful and poetic Christmas Tree of San Francisco...
This tree is decorated with over 7,000 white origami cranes and silver stars, each containing a message of peace or wish from people all over the world. You too, like Barack Obama already did in the past, can write a message that will be folded and put on the tree! Go to the Rainbow Fund website if you feel inspired by this Japanese tradition.
This year, sadly and tragically more than ever, hope - with peace - is all we need. Let's send thousands of hope, love and peace messages.
Illumination of the World Tree of Hope
San Francisco City Hall, 1 Dr. Carlton B. Goodlett Place,
San Francisco, CA
Monday, December 4, 2017
Starting at 6pm
4. Golden Gate Park Tree, The most vintage Christmas Tree of San Francisco!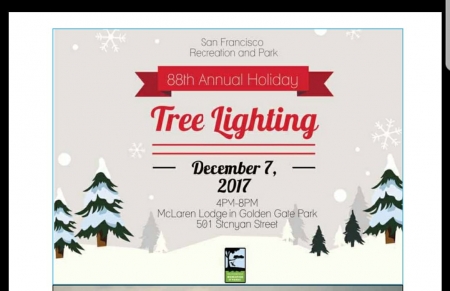 Train rides, live entertainment, cookie factory, refreshments and a visit from Santa himself!
Thursday, December 7, 2017
88th annual holiday Monterey cypress lighting
4pm - 8pm.
Mc Laren Lodge, Golden Gate Park, SF.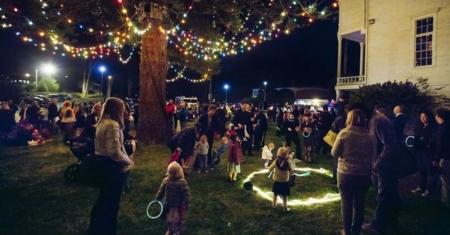 5. Presidio Tree, The evergreen San Francisco Christmas Tree!
As green as it can possibly be, it stands in the green Presidio. Enjoy the magical tree-lighting and join the Presidio Community for an enchanting lantern-lit walk through the forest. Bring your kids and your flashlights with you! Detailed information here.
Meeting point: Presidio Main Post
Friday, December 8, 2017
Starting at 5pm
Presidio Main Post,
at the corner of Lincoln Blvd and Funston Av, SF.
6. Tom and Jerry's Tree the most extravagant Christmas Tree in San Francisco!
Two local guys from San Francisco, Tom & Jerry (no kidding!) grew a pine tree in 1984 in front of their house on Dolores Heights. Since then, the little tree has become a 60-foot-high tree, while the owners have kept their child's dream alive. Every year in December, the tree vanishes behind huge decorations, stuffed animals and toys. Santa in person receives visitors, especially young ones...
Here are some informations and details about this outstanding house. 3650 21st Street Holiday Season
3650 21st street, between Sanchez and Church,
Noe Valley/Castro
Of course, everything looks better under the sun... but for the Christmas house by Tom and Jerry, it's rain or shine!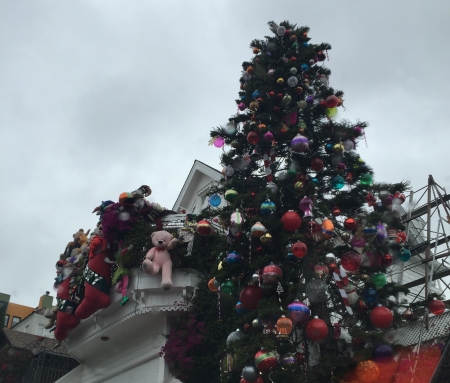 The SF Tree Lightings Map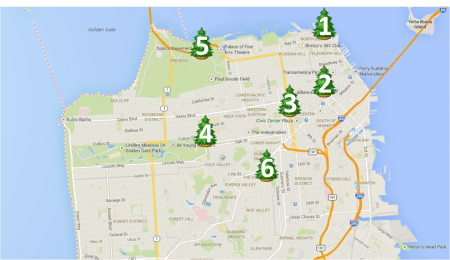 What about your own Christmas tree...?
LostinSF shares with you its Christmas tree addressbook to select and buy your own tree.
Agenda
Movie releases, Festivals & DVDs

Theatre plays, Ballet, Opera

Jazz, Rock, Pop, Symphonic & Co

Museums and Art Galleries

If you have some spare time...