This week end, sorry I am busy... I am at Burning Man!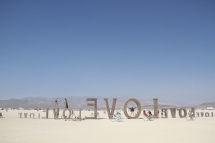 From Baker Beach to Black Rock Desert, 30 years of history.
The Burning Mania is on! Since August 28 and until September 5, 2016 when the 30th edition of this astonishing event will end, leaving intact the desert behind.
In Spring, typical answer is ''Sorry, I am at Coachella''... In September, one switches to ''Sorry, I am at Burning Man''. And those who can say that are rather lucky persons considering how fast both events go from ''on sale'' to ''sold out''.
Everybody has something to say about Burning Man that stirs up passions,, one way or another. And since Facebook and Instagram became so common and popular, the ''Burningmania'' asserted itself through a massive spread and circulation of photos and videos to give a glimpse to those who could not still attend the Festival of the incredible success of the event and of how creativity boudaries could be pushed back in such a ''far-far-far away land'' by its participants.
Let's take a look at the event, its people, its artists, its founders, its history through a French lense.
Arnaud Gaertner, literally fell in love with Burning Man and came back with a great series of photographs. They were presented last year at the Jules Maeght Gallery with the exhibition In the Middle of Nowhere.
We owe Arnad the great picture at the top o the article. Visit the whole gallery by clicking here or on the picture below.
Discover also the documentary Dust and Illusions, by Olivier Bonin, explores this epic saga. The purpose was not to recreate Burning Man on the screen, but definitely to follow its necessary evolution, and to try to understand how values and ideals conveyed by its initiators could carry on despite the pressure of the larger society.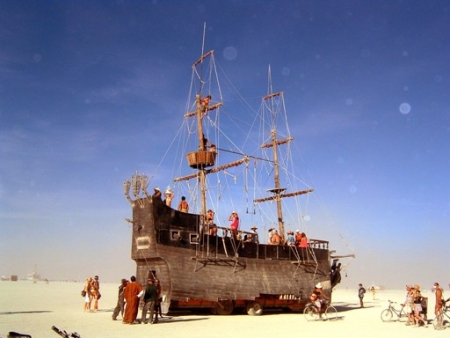 La Contessa (spanish gallion): Aki Tanaka 2004.
Take a lok at the trailer of the documentary Dust and Illusions.
Laurent Le Gall is also so passionate with Burning Man. He directed and produced several films and documentaries, including Burning Man Voyage in Utopia. Watch its nspiring trailer.
His passion has remained intact since then. He has been working on a new movie, Temples of Life inspired by David Best.
Follow Laurent Le Gall sur Facebook.
BURNING MAN
Naturally, to know more about the event, to learn about the 10 Principles, to get some tips to recover from the Post-Playa blues, to know how to participate... eveything is on their website www.burningman.com
Agenda
Movie releases, Festivals & DVDs

Theatre plays, Ballet, Opera

Jazz, Rock, Pop, Symphonic & Co

Museums and Art Galleries

If you have some spare time...