The new equation in the Mission.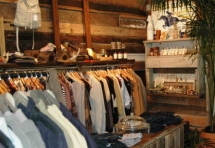 Fashion + Surf + Art = The Voyager Shop, the new concept store on Valencia.
Behind the idea, Robert Patterson, the owner of Revolver, the Lower Haight fashion store we talked about a few months ago, who joined forces with Michael Rosenthal, whose gallery was already located in that space and Mollusk Surf Shop, the mythic californian surf shop.The result: a unique mini mall like no other in the city.
Clothes and accessories have the same cool flair as the ones you can find at Revolver. Every garment has been carefully selected for its style, modern, vintage or classic, its fabric and silhouette. The whole collection, for men and women, is chic and casual, sometimes ethnic. You'll find trendy brands from all over the world: Japan (Workers, John Bull…), France (Hixsept, American Vintage), Italy, the Netherlands... and premium Denim lines you won't find anywhere else.
On the tables in the center, browse for the perfect gilft among a selection of ethical, handmade objects, from perfumes and soaps, to ceramics, glassware and paper. All these cute stuff for the house come from Spartan, a shop located in Austin, TX.
Mollusk has its own space in the back, a store in the store, built as a tiny wood submarine for the brand's famous Tees, hoodies, and surf gear. At last, Michael Rosenthal Gallery, on the right hand side, shows contemporary artits.
The Voyager Shop
365 Valencia Street, SF
Ouvert tous les jours 12pm-8pm
Agenda
Movie releases, Festivals & DVDs

Theatre plays, Ballet, Opera

Jazz, Rock, Pop, Symphonic & Co

Museums and Art Galleries

If you have some spare time...