The Midwife, the French movie with Catherine Deneuve et Catherine Frot opens in San Francisco and the Bay Area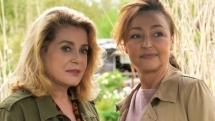 The Midwife opened last Spring in France and we owe the movie's amazing casting to see it coming so quickly to our screens in San Francisco and the Bay.
We said amazing casting... Catherine Deneuve, Catherine Frot, Olivier Gourmet and Quentin Dolmaire (We discovered him in the French movie, My Golden Days, by Arnaud Desplechin.)
And Martin Provost, has proved already his talent to direct women in his for mer films like Violette with Emmanuelle Devos or Seraphine. The Midwife just confirms it once again.
The story is rather simple and conventional, but the great actors make it a moving life story.
Catherine Deneuve, some kind of a 70 year old capricious Marilyn and Catherine, a midwife dedicated to the others, offer us a beautiful and inspiring performance.
The story briefly...
Two of French cinema's biggest stars shine in this bittersweet drama about the unlikely friendship that develops between Claire (Catherine Frot), a talented but tightly wound midwife, and Béatrice (Catherine Deneuve), the estranged, freespirited mistress of Claire's late father. Though polar opposites in almost every way, the two come to rely on each other as they cope with the unusual circumstance that brought them together.
The trailer...
Sage Femme / The Midwife
With Catherine Deneuve and Catherine Frot
Opens July 28 in San Francisco, Berkeley and San Rafael.
Agenda
Movie releases, Festivals & DVDs

Theatre plays, Ballet, Opera

Jazz, Rock, Pop, Symphonic & Co

Museums and Art Galleries

If you have some spare time...