THE LYCEE FRANCAIS DE SAN FRANCISCO HAS A PLAN TO KEEP YOUR KIDS BUSY THIS SUMMER.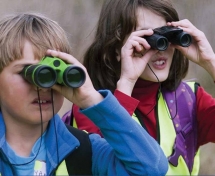 [Partner article] Summer is getting closer and it is that time of the year again to figure out how to get our kids busy during their summer break. The Lycée Français de San Francisco (LFSF) has prepared a great program between their 2 campuses at San Francisco and in sunny Sausalito.
Summer 2016, the Lycée Français de San Francisco had organized a whole series of summer camps with a program based on a wide array of activities and tailor-made to match different age groups expectations and interests, in a bilingual environment.
The team is ready for 2017. Long story short... here is what you should want to know about the French immersion summer camps by the Lycée Français...
To register your child, click here.
ALL SUMMER LONG
French immersion summer camps by the Lycée Français de San Francisco start as early as June 26 and will last the whole summer, until August 25.
FOR 3 TO 11 YEAR OLD KIDS
The Camps are broken down into very specific age brackets to optimize activities and make them attractive for all attendees. For example 3/4 years - 5/6 years - 7/11 years.
OPEN TO GENERAL PUBLIC
Except for the youngest ones (pre-K, 3/4 years / Nevertheless, they will be open to new families.), all camps are open to general republic. No need to be a Lycee family to register!
DIVERSE ACTIVITIES
Sports, outdoor activities, arts and culture are main ingredients of this special summer recipe.
COMPETITIVE PRICES
... with flexible calendars. Prices vary from $370 to $410 a week, with the opportunity to choose half-day camp at certain dates.
10% OFF are offered for early bird registrations (before February 27, 2017).
10% OFF for sibblings for regustrations after February 27, 2017.
FLEXIBLE SCHEDULE
Regular hours are 9am to 4pm. But to make life easier for busy parents, the camps run and offer extended morning and afternoon daycare hours (8am-8:45am and 4:15pm to 5:30pm). A shuttle service connection is also available between San Francisco and Sausalito.
QUALITY AND EXCELLENCE
AS A PRIMARY REQUIREMENT
The LFSF employees professional certified and qualified French teachers and staff that is set in a safe and nurturing environment specifically designed to offer fun and educational French immersion programs and activities.
FRENCH IMMERSION
Language is at stake with a challenge : offering a French immersion program in a naturally bilingual environment.
2 DATES TO ADD ON YOUR CALENDARS
> March 11, 2017
The Marin Camp Fair will take place in San Rafael at the Dominican University of California. Events details.
The Summer Resource Fair will be held the same day at the County Fair Building in the Golden Gate Park. Events details.
Staff and camp organizers of the LFSF will be there to inform you and answer your questions.
> June 1st, 2017
The LFSF Summer Camps team invites all families that have registered for the camps to join them at the Sports Basement store on Bryant for an information meeting on June 1st from 6 to 8pm.
Take advantage of a 20% OFF discount on all your purchases that evening.
HAPPY AND BUSY FRENCH SUMMER
IN SAN FRANCISCO!
LYCEE FRANCAIS DE SAN FRANCISCO
SUMMER CAMPS 2017
June 26 - August 25, 2017
To browse through all the programs
and book camps, click here.
Agenda
Movie releases, Festivals & DVDs

Theatre plays, Ballet, Opera

Jazz, Rock, Pop, Symphonic & Co

Museums and Art Galleries

If you have some spare time...