The Geek x VRV, Axel and Vincent, 2 French guys at Coachella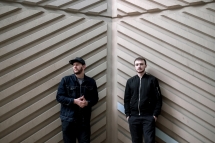 The Geek x VRV... aka Axel et Vincent (and vice versa) are one of the French artists invited to perform at Coachella this year. They happen to come to San Francisco for a concert. Let us introduce them to you...
The Geek x VRV, the French duo already performed at Coachella for the first week end of the cult Festival. They will be in San Francisco on Friday the 21st, right before going back to Palm Springs for the second round of the show. They will play the same day as Breakbot, Brodinski, DJ Snake (yes, DJ Snake is a Parisian DJ. Did you know that?) just to mention the French artists of that day.
The French duo The Geek x VRV have just released "Origami Remix", their second EP, on Embrace Records (in Europe) and All Good Records (in the USA). In this panoptic calling- card, the up-and-coming combo showcases the incredible versatility of their music, ever-so smoothly weaving a world symphonizing futuristic electro beats, hip-hop twists and a dash of pop.
Axel and Vincent met in the suburbs (South of Paris) where they both grew up. They both had already worked on music production when they were introduced to each other. They happened to work together as if they were meant to from the beginning.
The result is rather amazing and a subtle mix of all the different styles we already mentioned.
It's because, that already got more than 7 Millions views on Youtube, definitely propelled them. They also built a great reputation for their live performances. For instance, in Paris, they played to a sold-out Maroquinerie, moved on to the Olympia (for a "TheSoundYouNeed" event) and were opening act for Gramatik at the Zénith.
Go and check by yourself at the Rickshaw Stop on April 21. We never had a bad experience at this venue, one of our favorites in San Francisco!
Thank you so much to Cynthia, a LostinSF follower, who contacted us to remind us of their concert in San Francisco. We had identified them in the Coachella's line up and then, it skipped our mind... Thank you again for the friendly reminder that allowed to take a closer look at them and listened to some recent productions.
Welcome to San Francisco!
The Geek x VRV
@ the Rickshaw Stop
Vendredi 21 avril 2017
Pour acheter vos tickets, cliquez ici.
Agenda
Movie releases, Festivals & DVDs

Theatre plays, Ballet, Opera

Jazz, Rock, Pop, Symphonic & Co

Museums and Art Galleries

If you have some spare time...