The French revelation, JAIN, will tour the US, make a stop in San Francisco and another one at SXSW.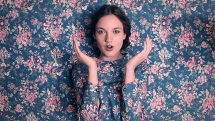 Jain (say Jane) is literally the latest French revelation in the pop-rock-electro-and even reggae French scene. We have been following her lately. Here is what we have to tell you and you should love it.
Let's start with our 1st experience. Actually, when we listened to JAIN for the first time. we felt the same sweet enjoyment as with IBEYI. It is almost a surprise. It does catch us like unprepared by what could sound like some kind of an Esperanto, carried by rythms and beats one can hardly resist.
To get to know her better, here is our express portrait of JAIN.
Her bith name is Jeanne Galice
For you to know.
She was born in 1992 in Toulouse, South West of France.
For you to know, again.
She lived here and there to follow her dad's professional peregrinations.
A classic we know pretty well aaround here.
Here and there mean Congo-Brazzaville, Dubaï and Abu Dhabi.
Congo-Brazzaville was the most inspirational experience.
She was noticed by her current producer Yodelice when she released several mock-ups.
Remember his name.
She released her first album back in November 2015 in France, called ZANAKA.
Everything went rather fast
It does include COME, that met quite a great success in France. Listen to it and you will be caught by the pace, the tune and the tone, the multicultural effect and the precious aesthetics.
Trust us and listen.
A few months ago, she came to the US for a bunch of concerts... but not in San Francisco. We were disappointed but we knew she would come back.
She was with FAKEAR in LA. He should come to SF too.
And just a few days ago (5 exactly, at the time we are writing this article), JAIN released her latest video for MAKEBA, which was a summer hit in France.
And, since she was into good news, JAIN announced her US tour for next Spring: 16 concerts including one at the Independent in San Francisco.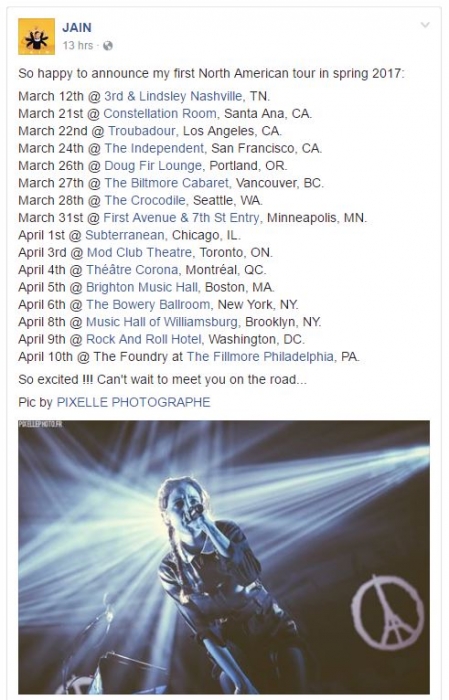 She will even attend next SXSW in Austin. JAIN à SxSW2017.
Congrats for this great success. The Independent happens to be one of our favorite venues in San Francisco. We have seen there so many artists like C2C, Bombino, The Savages, Laura Mvula, March Fourth Marching Band, Ibeyi... always enjoying the great acoustics and the intimate atmosphere of the place.
We listened to her whole album. Of course, COME et MAKEBA are pretty catchy. YOU CAN BLAME ME, or also... HEADS UP are now part of our permanent playlist.
We can't wait to be there. See you next Spring at the Independent.
JAIN
@ The Independent
Friday, March 24, 2017
To buy your tickets, click here.
Tickets go on sale starting Friday, December 9, 2016 at 12pm.
Agenda
Movie releases, Festivals & DVDs

Theatre plays, Ballet, Opera

Jazz, Rock, Pop, Symphonic & Co

Museums and Art Galleries

If you have some spare time...