THE FRENCH MOVIE, THE INNOCENTS, IS NOW SHOWING IN SAN FRANCISCO
The latest movie by French director, Anne Fontaine, opened in San Francisco on July 8, 2016.
Anne Fontaine delivered an amazing movie which highlights the unexpected relationship between young French doctor (Lou de Laage) and a nun (Agata Kulesza - who played in Ida, that you can currently watch on streaming on Netflix). In the end, what really prevails is respect, tolerance and kindness while everything should have separated them. That is definitely the essence of this movie where humanity wins despite atrocities and times harshness.
The story briefly...
Warsaw, December 1945: the Second World War is finally over and Mathilde (Lou de Laâge, L'attesa), a young French Red Cross doctor, is treating the last of the French survivors of the German camps. A panicked Benedictine nun appears at the clinic one night, unwilling to speak with the Polish doctors, begging Mathilde to follow her back to the convent. What she finds there is shocking: a holy sister about to give birth and several more in advanced stages of pregnancy. A non-believer, Mathilde enters the sisters' fiercely private world, dictated by the rituals of their order and the strict Rev. Mother (Agata Kulesza, Ida). Fearing the shame of exposure, the hostility of the new anti-Catholic Communist government, and facing an unprecedented crisis of faith, the nuns increasingly turn to Mathilde as their belief and traditions clash with harsh realities.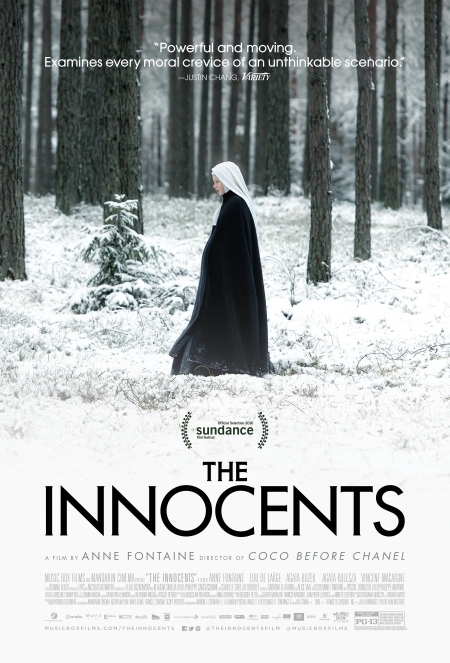 THE INNOCENTS
By Anne Fontaine
Opens in San Francisco on July 8, 2016
Agenda
Movie releases, Festivals & DVDs

Theatre plays, Ballet, Opera

Jazz, Rock, Pop, Symphonic & Co

Museums and Art Galleries

If you have some spare time...