The French Consulate is moving and is planning a face(book) lift!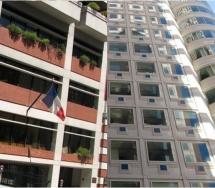 The French Consulate in San Francisco will move in December and organizes a photo contest (that everybody can enter) for a brand new Facebook profile picture.
Keep some dates in mind (and on your calendar) to eventually spare some time:
Wednesday, December 14: last day @ 530 Bush street
December 15 - 19: the Consulate will be closed.
Tuesday, December 20: 1st day @ the new address, 88 Kearny street.
And no new Facebook address for the Consulate, but a Face(book) lift! The Consulate encourages you to express your talents as photographer painter, illustrator, designer, streetartist, poet to create a new profile picture for its Facebook page.
Express yourself and enter the contest!
Agenda
Movie releases, Festivals & DVDs

Theatre plays, Ballet, Opera

Jazz, Rock, Pop, Symphonic & Co

Museums and Art Galleries

If you have some spare time...