The Detox Market in San Francisco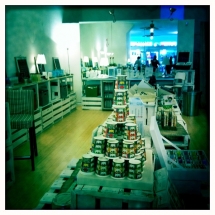 Closed - Closed - Closed
Opened by two French-born entrepreneurs after the success of The Detox Market in Los Angeles, the new concept store on Valencia street offers a selection of natural and organic brands, most of them French, you won't find anywhere else."We scout the world for the purest products and test hundreds. They must meet our strict standards: zero toxicity and the highest efficiency while still obtaining beautiful packaging. From there, we select the one we feel is the best in its category" states founder, Romain Gaillard.
We love the concept of course, not only because it is green, but also because it brings us some of the Most Wanted French green products.
Honoré des Prés 100% natural perfumes created by Olivia Giacobetti and beautifully packaged in glass jars.
World-renowned Kusmi teas, very popular in Paris ; with their delicious invigorating blends, colorful tins and "message" names Sweet Love, Be Cool, Detox… they are perfect gifts for tea connoisseurs as well as your BFF.
Organic and freshly made skin care products Odacité ; launched by Valérie Grandury a French breast cancer survivor settled in California, they are known for astounding effectiveness, using pure organic highly-concentrated botanical ingredients, containing no preservatives or harmful chemicals. A Pure "merveille"!
Other style, same philosophy... Soaps, hair products, chocolates, sunscreens, fruit jams or juices, flavored sea salts… all natural and organic. A perfect source of inspiration for your next gifts (Valentine's day is not far) and an everyday green shopping destination.
The Detox Market
969 Valencia street, San Francisco
Agenda
Movie releases, Festivals & DVDs

Theatre plays, Ballet, Opera

Jazz, Rock, Pop, Symphonic & Co

Museums and Art Galleries

If you have some spare time...