The Conservatory of Flowers celebrates the Summer of Love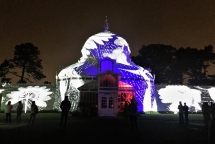 This is the ultimate Summer, the one where flowers have super powers! So... so who else than the Conservatory of Flowers to celebrate?
The Conservatory of Flowers has always been one of our favorite spots in the city. With the Summer of Love Illumination, we won't leave the Golden Gate Park, from sundown until midnight
The reason why...
The celebration of the 50th Anniversary of the Summer of Love
What...
The Illumination of the Conservatory of Flowers at night.
Who...
Obscura Digital, San Francisco Recreation and Parks & Illuminate (the non profit behind The Bay Lights)
The inspiration...
''The Summer of Love was always about an energy – a spark – bringing love and light at a time when the world needed it," says Ben Davis, Director of Illuminate. "We are bringing that light back to where it all began in Golden Gate Park fifty years later with an electrifying, contemporary tribute.''
When...
Starting on the summer solstice, June 21, and continuing through October 21, every night from sundown until midnight, a series of exquisitely illuminated scenes inspired by the rare tropical flowers within and the legacy of San Francisco's flower children will be projected on the building. Think spinning flower mandalas, animated butterflies and more. Should be beautiful ...
The beginning...
On June 21, a free concert with members of Jefferson Airplane, The Chambers Brothers, Moonalice, and others who will perform hits of the late 60s and the first public display of the light art installation that will transform the Conservatory of Flowers into a canvas of elegant illuminated scenes every night through October.
We wish you a beautiful, colorful, joyful, flowerful Summer of Love in San Francisco!
Extra time until Thanksgiving has been announced 2 days before the initial ending day. Great news! Then the tree lights will take over from them.
Surrealistic Summer Solstice Concert and Grand Lighting!
Wednesday, June 21, 2017
You can make a free reservation , by clicling here
Illumination / Free public installation
June 21 juin - October 21 November 26, 2017
Exhibit / Flower-power / Conservatory of Flowers
Agenda
Movie releases, Festivals & DVDs

Theatre plays, Ballet, Opera

Jazz, Rock, Pop, Symphonic & Co

Museums and Art Galleries

If you have some spare time...