The Caravelle tour by the French duo Polo & Pan will reach its final destination in San Francisco this Fall
Polo & Pan, the French Electro-Pop duo never stops touring and performing. After a year of concerts and Coachella that just closed its 2019 edition, Polo & Pan just announced a long US and Canada tour for this Fall.
Polo & Pan, their name sounds like a magic tale or an invitation to a journey to an enchanted world. Makes sense when you think that their album and tour's name is Caravelle.
''Polocorp'' (Paul Armand-Delille) and ''Peter Pan'' (Alexandre Grynszpan) form the very Parisian duo of Polo & Pan. Colorful, with a great sense of humour, and a definitely refined style... kind of the definition of Parisian, right?
They performed last June at the Independent a sold concert, they were also at the Treasure Island Music Festival and just left Coachella where they were among the French artsist invited to the 2019 edition of the one of its kind Festival.
Now listen to Coeur Croisé... and join the Caravelle's crew.
Polo & Pan
@ the Fox Theater Oakland
Friday, November 15, 2019
To buy your tikets >> click here
Pre-sale starts April 25, 2019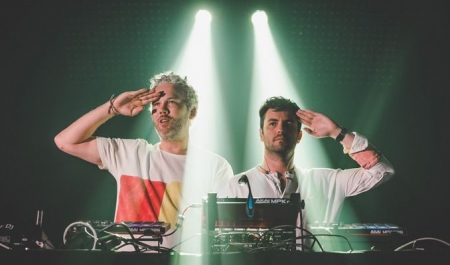 Agenda
Movie releases, Festivals & DVDs

Theatre plays, Ballet, Opera

Jazz, Rock, Pop, Symphonic & Co

Museums and Art Galleries

If you have some spare time...