TANTRUM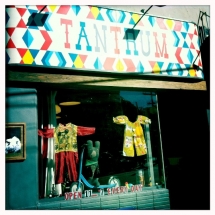 Store on Cole @ Carl.
The Cole store that should give you temptations to make a lot of them (tantrums...)!
SF is a village and Cole Street could be its quiet center. At night, poeple run around getting down from the Muni. In the morning, the same crowd is heading to work. During the day... people go to Cole Hardware (the Store that makes you love SF even more!), grab a coffee at la Boulange, make a stop at Pharmaca for a beauty cream or a magazine, have their lunch break at Zazie, have their dessert at Ice Cream Bar, pick a movie at Video Nook, buy some cheese at Say Cheese, and buy a gift at Urban Mercantile.
For some months, one can also make a stop at Tantrum.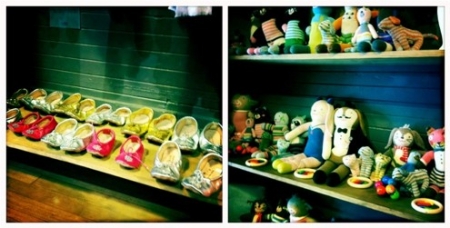 Michelle et Amanda, the 2 owners and founders, have figured out a gorgeous and adorable treasure chest: with a Barnum circus atmosphere from the outside, and then you enter a ravishing place filled with items, objects, clothes, articles, cushions, chairs, toys from another time, and yet so present. Vintage is not only for grown ups!
Every detail is charming and you feel like everything would be awesome in your own interior.
Tantrum also recently launched the "Hissy Fit: Tantrum after hours": this is where Michelle and Amanda bring their grown up vintage and offer a portion of the proceeds to children's charities (the SF Child Abuse Prevention Center for the first editions).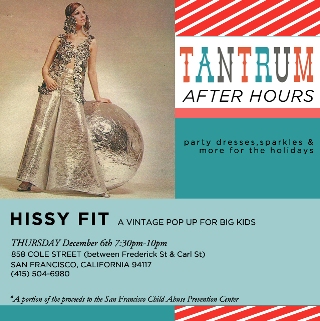 And soon (but we will tell you when it is going to start), Tantrum should offer art classes. In the meantime, you can have your tiny little darling's birthday party there.
We have like an intuition that there is going to be a galore of tantrums... and the kids won't be blamed for them:-)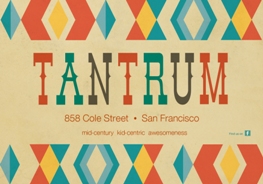 TANTRUM
858 Cole Street (@Carl)
Agenda
Movie releases, Festivals & DVDs

Theatre plays, Ballet, Opera

Jazz, Rock, Pop, Symphonic & Co

Museums and Art Galleries

If you have some spare time...