Swagger, the movie by French director Olivier Babinet is coming to San Francisco
Swagger is a movie that follows 11 teenagers, living in poor housing estates in the surrounding of Paris. Between documentary and fiction, the movie gives a different perspective with hope and optimism.
We were not expecting to be able to watch this movie in San Francisco that early after it got released in France. Swagger has been presented at the Cannes Festival last year.
We have not seen it yet but simply reading reviews and watching the trailer let us understand how Swagger can be different and makes us really impatient to watch it and discover the whole story.
The swag is not only in the kids, but also in the movie itself, a documentary mixing fiction and reality, with a special attention given to esthetics through a beautiful photography and accompanied with an outstanding soundtrack.
In a different style, we loved Girlhood and more recently Divines, 2 French movies currently available on Netflix. They have in common to all give a different perspective with intelligence and respect about youth living in disadvantaged area. Check the Cinema Agenda on LostinSF.
The story, briefly...
Swagger takes us into the heads of eleven children and adolescents with surprising personalities growing up in the heart of the poorest housing estates of France. The film makes us see the world through their very personal and unexpected perspectives, their funny and incisive thoughts. By unravelling a mosaic of characters and blending different genres, including musical film and science fiction, Swagger gives life to the words and fantasies of these children from Aulnay and Sevran. Despite their difficult lives, they have dreams and ambition: nobody can take that away from them.
SWAGGER
An evening with Director Olivier Babinet
Friday, April 7, 2017 @ 8pm
@ Brava Theater center
2781 24th Street (between York & Hampshire Streets)
To buy your tickets, click here.
An event organized and hosted by Novel Cine (Sandrine Neveux) and AproposSF (Vanessa Portois Wermter).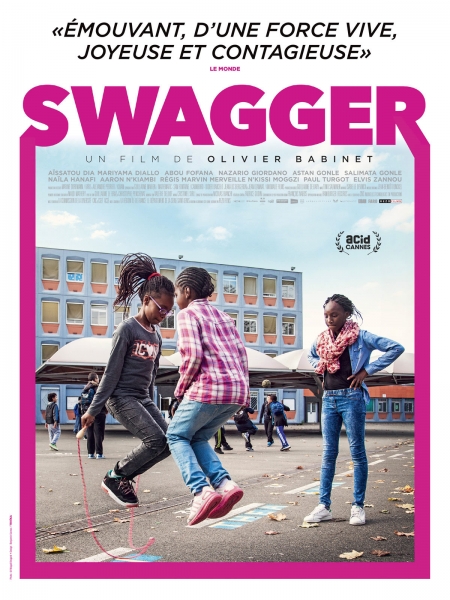 Agenda
Movie releases, Festivals & DVDs

Theatre plays, Ballet, Opera

Jazz, Rock, Pop, Symphonic & Co

Museums and Art Galleries

If you have some spare time...