SUNDAYS BY SAN FRANPSCHYCHO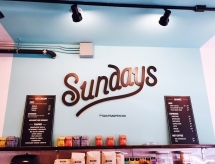 You already loved the t'shirts, hoodies and co. You'll love their new coffee/icecream bar on 9th avenue. It's new and it's cool!
San Franpsycho... we discovered them with store on Divisadero. That makes sense. This is the original location. Great creative t'shirts, very local for locals. Tourists can buy them too but that's not the point.
And then they opened a new location on 9th avenue. No need to say we were delighted. We love the neighborhood (and we keep repeating our love) that has a ''not totally well founded'' reputation of ''fogginess'', which helps maintainining some privacy. Too bad for the grumpy ones and the skeptical.
The latest good surprise? The remodeling of the Inner Sunset to add a coffee/icecream bar at the entrance of the store. Cool, gorgeous and well done!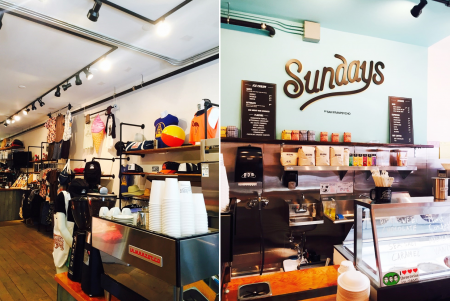 Sounds, looks and smells perfect : Four barrel and De La Paz coffees, Three Twins icecreams, nice set up, tiny terrace in front on the sidewalk, and the clothing boutique in the back. A must go from now on in the Inner Sunset.
It is obviously already opened but the celebration with the Grand Opening is planned for June 13, from 12pm to 6pm. The program foecasts... coffe and icecream of course... but also seafood, some ambiance in the backyard and a good cause to support, Surf for Life.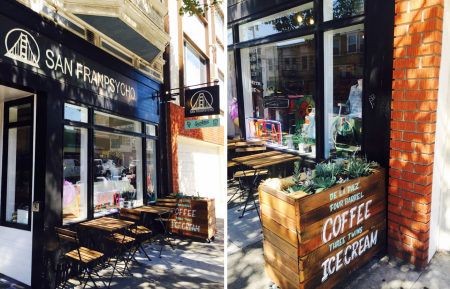 You can count on San Franpsycho'S team to receive a warm welcome. We are totally fan of these SF psychos who contribute to the ''local coolness attitude''.
SUNDAYS BY SAN FRANPSYCHO
Grand Opening on June 13, 2015
1248 9th avenue (between Lincoln and Irving)
Agenda
Movie releases, Festivals & DVDs

Theatre plays, Ballet, Opera

Jazz, Rock, Pop, Symphonic & Co

Museums and Art Galleries

If you have some spare time...