Sting announced his American tour in support of his first new album in a decade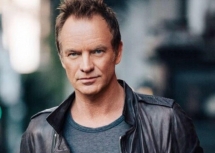 Sting just released 57th & 9th and announced at the same time his North American tour. Socially and politically committed artist, Sting will send some great messages in his songs this February in San Francisco.
Sting is so emblematic, like a wise man using his concerts and songs like bottles to the sea.
Since The dream of the blue turtles and then ... Nothing like the sun. It sound so present. It was ack in the 80s, even before the fall of the Berlin Wall, when activism was still about cold war, but also about freedom, immigration already and arbitrary with Pinochet. Remember History will teach us nothing? Sounds more meaningful and relevant than ever.
Sting just performed for a tribute concert at the Bataclan that reopened its doors for the first time since the terrorist attacks in Paris on November 13, 2015. A year already! He found the words to help the healing, to alleviate the pain and to move forward. He performed FRAGILE with the outstanding Ibrahim Maalouf. We can easily guess how the emotion could reach a climax then.
He played different songs from the past, and yet so present. But he also ntroduced his new album 57th & 9th with 2 very symbolic songs to start with, Inshallah and a one like a tribute to James Foley, the American journalist assassinated by ISIS.
His interview with NPR sheds some light on his commitment, his beliefs, his doubts and hopes. He talks about the absolute necessity of empathy if we want to find solutions, political and social ones, to the issues at stake here in the US, but actually worldwide also.
''I have a purpose'': Sting talks about ''57th & 9th''
Interview on NPR - November 13, 2016
Sting has a purpose and he will let us know about it in San Francisco this February at the Masonic.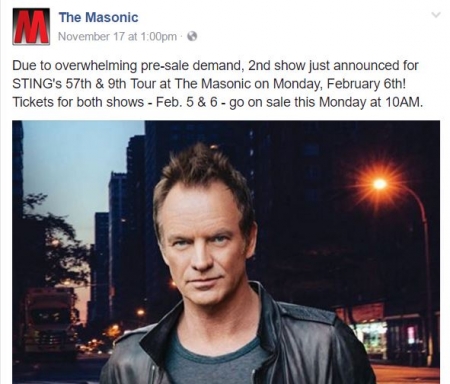 STING
57th & 9th
@ the MASONIC
Sunday, February 5, 2017
Monday, February 6, 2017
To buy your tickets, click here.
From $65 and over.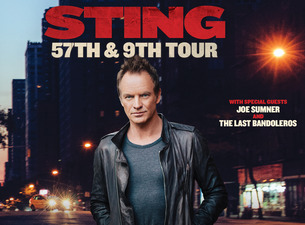 Presale starts November 15, 2017.
Pour consulter toutes les dates de sa tournée américaine, cliquez ici.
Agenda
Movie releases, Festivals & DVDs

Theatre plays, Ballet, Opera

Jazz, Rock, Pop, Symphonic & Co

Museums and Art Galleries

If you have some spare time...