ST HELENA & AROUND
Week-end getaway in St Helena, Napa Valley.
A hotel, a winery and a gallery: here is our plan for your next week-end in Napa!
Friends of ours have been kind enough to share with us (and you) their getaway in Napa. Let's follow their path.
First thing, you will put down your luggage at the Harvest Inn...
Nestled between the delightful town of St Helena and great wineries of the region, lies the Harvest Inn. Upon our arrival, we were immediately charmed by the beautiful grounds and friendly staff, and, as luck would have it, we checked in right on time for the hotel's wine and cheese hour. Every Friday and Saturday, between 5:30 and 6:30 pm, Harvest Inn invites a prestigious winery to host a wine tasting, complemented by a bountiful table of delicious local cheeses. This warm welcome set the tone for our wonderful stay at this charming hotel.
After a short stroll on the picturesque grounds, past the rose bushes and fish pond, we made our way to our room. Tucked away in a quaint brick cottage, the very spacious room proved as lovely as the rest of the hotel. A woodburning fireplace, comfy leather armchairs to lounge by the fire, fluffy bed dressings... so cosy!
In the morning, we made our way to the Wine Country Kitchen for the complimentary breakfast. The dining room -- which only serves breakfast -- overlooks the vineyards, offering a beautiful view to wake up to.
We spent one short night at the beautiful Harvest Inn, but every minute of it we felt we were in a haven of comfort. This hotel is a top choice if you're planning a wine country visit, with an ideal location, fairy-tale grounds, helpful and friendly staff and comfortable rooms. We will definitely be back!
The Harvest Inn
Then you will take some timee at the I.Wolk Gallery.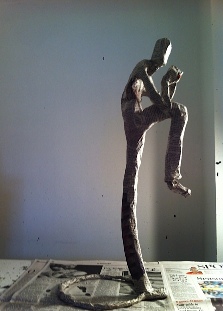 The I.Wolk Gallery, located on 1354 Main Street, Saint Helena, and first established in 1990, is a member of the San Francisco Art Dealers Associations.
Constance Chabrieres (www.chabrieres.net) is a French sculptor based in Washington DC, working papier mache, bronze and also on commission.
Her sculptures witness our fugitive moves and moods. Chabrieres captures the instant, like in 'rue de l'observatoire' where an adult teach bicyling to a child or the 'left hand pitcher' seconds before the ball speeds away.
Constance Chabrieres among other artists until May 9, 2013 - Awaken Exhibition
In the end, you will go to the charming Tres Sabores winery.
"This winery definitely distinguishes itself from some enticing wine business that we may find sometime. Jon and his spouse Julie welcome you in a bucolic atmosphere and will tell you stories about organic wine, about the manure's quality, about the benefits of pomegranate trees we can see around…
It is a Zinfandel domain. Wines are genuine, sincere and voluptuous. They also offer a delicious rosé, some may say it does even compete with Cassis ones!
A great, hearty, authentic experience in Napa!"
Tres Sabores
1620 S Whitehall Ln, St Helena, CA 94574
By appointment only.
We wish you a lovely week-end.
Driving tips : Saint Helena is 1 hour and 40 minutes from San Francisco by car. You can take either the Golden Gate Bridge and drive North trough San Rafael and Novato, and continue towards the Sonoma Valley and Napa Valley, either the Bay Bridge, and drive North towards Vallejo.
Agenda
Movie releases, Festivals & DVDs

Theatre plays, Ballet, Opera

Jazz, Rock, Pop, Symphonic & Co

Museums and Art Galleries

If you have some spare time...